Dutch Dressage News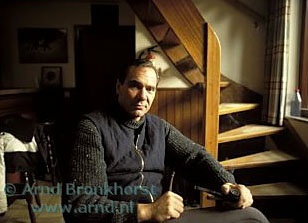 42-year old Bert Rutten has been appointed new Chef d'Equipe for the Dutch senior Dressage Team. Rutten is succeeding Jan Peeters, who was has been kindly thanked for his services by the Dutch Equestrian Federation
(KNHS) as chef d'equipe and head of the triumvirate that consisted of Peeters and trainers Sjef Janssen and Johan Hinnemann.
It is right to say that the Dutch Equestrian Federation (KNHS) is having a small crisis over the organization of its dressage commission. Since to the extremely disappointing results of the Dutch Dressage Team at the 2002 World Equestrian Games and 2003 European Championships, the KNHS and "Dutch Dressage" got into dire straits.
In order to solve the current problems and to build towards a positive future for the Dutch Dressage Team in sight of the 2004 Olympic Games, the KNHS has searched for a new management system and pink slipped Jan Peeters, Sjef Janssen and Johan Hinnemann.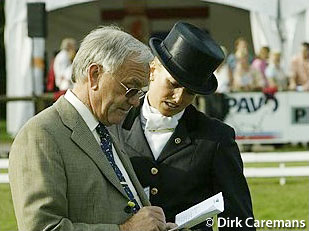 Internationally respected O-judge Jan Peeters will still be adviser and clinician for the KNHS as well as chef d'equipe of the Dutch Junior and Young Riders team, which has won thrice gold and once silver this year.
Peeters, Janssen and Hinnemann were appointed as co-operative chef d'equipes last year. "Peeters has done very much, but he was unable to fulfil the role we had envisaged," said George de Jong, ceo of the KNHS, "we have talked with the riders and they also preferred a different approach."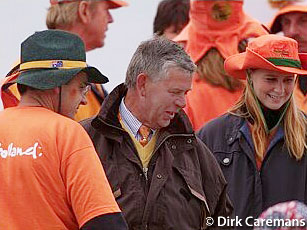 The KNHS has been having problems finding the right person in charge of the dressage department in Holland, since German Jurgen Koschel, the most successful Dutch Chef d'equipe so far, was dismissed in 2002.
Judge Gishlain Fourage became interim Chef d'equipe at the 2002 World Equestrian Games, and he was followed by the trio Peeters/Janssen/Hinnemann, who were hired to create the path towards the 2004 Olympic Games. De Jong, however, was not satisfied and appointed Rutten today.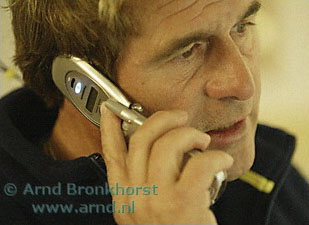 A special Olympic Selection Committee will also be created, in which three persons will have a strong voice in selecting the Dutch Olympic team.
Bert Rutten participated in several European and World Championships in the 1980s, winning team silver and team bronze. He is currently managing a dressage stable in Hunsel, The Netherlands, and training international riders from Spain, Sweden, Canada, England, the U.S.A and Germany. Bert's father, Jo Rutten, participated in the 1976 Olympic Games. Bert has trained 13 horses to Grand Prix level so far and is also active as a judge in the KWPN Stallion Performance Testing Committee.
Images Rutten-Janssen copyrighted: Arnd Bronkhorst
Images Hinnemann-Peeters copyrighted: Dirk Caremans
Related Links
Dutch Dressage Reorganized 
Jurgen Koschel Abruptly Resigned as Dutch Chef d'Equipe
Koschel Limits His Activities as Dutch Dressage Chef d'Equipe