Dutch Dressage News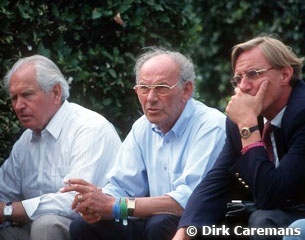 A terrible loss for Anky van Grunsven; her biggest fan and most beloved father Wim van Grunsven passed away. Mr van Grunsven was diagnosed with cancer a year ago but lost his battle against it on Easter Monday 12th April 2004. He was 68 years old.
"He was my stimulus, my push, my help during many bad moments. He was the "eye" during my daily trainings," described Anky van Grunsven. "I owe so much to him."
Wim van Grunsven never missed a single show and was still present at the CDI-W 's Hertogenbosch at the beginning of March to criticize the many improvements Salinero still had to undergo. He saw Anky win the Olympic Gold in 2000 and make history two weeks ago by winning her sixth World Cup title in Dusseldorf, Germany.
Wim van Grunsven was always there in the background and will be greatly missed by his family, friends, and the horseworld.
Source: Claartje van Andel 
Image copyrighted: Dirk Caremans
Related Links 
Wim van Grunsven Watches Anky win 2000 World Cup Final
Anky van Grunsven Wins Sixth World Cup Title