2004 Olympic Games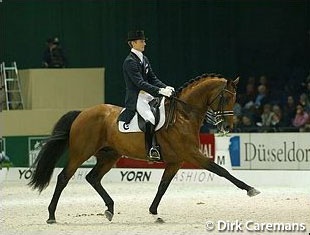 A major set back for the Dutch team. On August 10, 2004, the Dutch Equestrian Federation announced that Gestion Lingh has been withdrawn from competing at the 2004 Olympic Games
as member of the Dutch team. The KWPN branded stallion Lingh (by Flemmingh) injured himself getting off the transporter. Dutch team vet Hans van Schie made the sad diagnosis that the injury was too severe for Lingh to be competing in the Games. According to Van Schie, Lingh needed rest, not Athens competition.
In agreement with Van Schie, Lingh's owner Theo van Sadelhoff and rider Edward Gal, it has been decided that Lingh would not be travelling to Athens to compete in the Games. Reserve rider Imke Schellekens and her licensed stallion Gestion Lancet, who became consistent 70% scorers the past two months, will be replacing Lingh and Gal.
"The decision to keep Lingh at home has been a enormous disappointment for many people," Edward Gal said, "but it is in the best interest of Lingh. To us Lingh is the most important, even more important than the Olympics. Lingh will get a couple of weeks rest and then he can start putting more weight on that leg again. If everything goes well, Lingh will be relatively soon back in the show ring."
Lingh's withdrawal has provoked major drama in the Dutch camp, as the Dutch team was finally back -- full force -- since 2000; with Anky van Grunsven and Salinero being gold medal hopefuls and Edward Gal and Gestion Lingh top five hopefuls.
Schellekens will be a strong replacement in the Dutch team but the orange riders will have to struggle to keep a silver team medal in reach now that the U.S.A. is stronger than ever.
Edward Gal will still be travelling to Athens, not as competitor but as supporter.
Image copyrighted: Dirk Caremans