2004 Olympic Games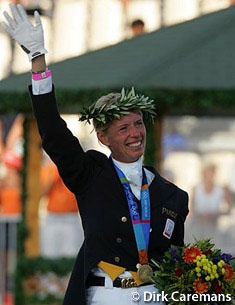 Dutch dressage rider Anky van Grunsven has won her second, consecutive individual gold medal at the Olympic Games. Van Grunsven defended the title she earned in 2000 with the now retired Bonfire.
At the 2004 Olympics in Athens, Van Grunsven saddled the nine-year-old Salinero, a Hanoverian gelding by Salieri, who has only been doing the Grand Prix since 2003.
Riding a record scoring kur to music of 85.825%, Van Grunsven reigned supreme in the Grand Prix Freestyle and took the overall lead in the ranking, putting a golden lining on her 2004 Athens Olympics' experience.
Van Grunsven was moved to tears after she finished her Esprit des Chanson freestyle. Winning the gold once is amazing, winning it twice is incredible. "My cell phone almost exploded from all the phone calls and text messages I received," Van Grunsven joked.
German Ulla Salzgeber, who announced before that she wants to retire her 16-year old Rusty, finished in second place with a 83.450% score for her kur. Salzgeber openly admitted that she ferociously wanted to go for individual gold at the Olympics to cap off her career with the ultimate achievement. Her silver medal was sour grapes to her, as Anky van Grunsven was able to beat Salzgeber's veteran Rusty with a young, green horse who has now earned the distinction of the world's best dressage horse.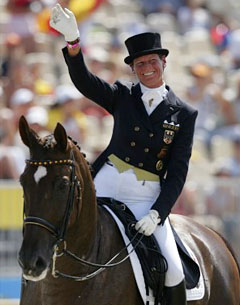 Salzgeber rode Rusty for the last time in competition at the Games in Athens. She will be retiring her horse after the Olympics. "Rusty will only appear in a few retirement ceremony shows and that's it," Salzgeber said. "I will only ride him at home now, for my own pleasure."
The bronze medal went to Spanish Beatriz Ferrer-Salat, who finished third after earning a 79.575% in the freestyle. Adding this to her 75.213% average after the Grand Prix and Special, Ferrer Salat proved that her 2002 WEG silver medal was not a once in a blue moon performace.
Debbie McDonald, who was solidly in fourth place after the Special, was in contention for the bronze, but her 78.825% freestyle (which put her in sixth place) was not enough to capture that coveted individual medal, which has eluded the USA inspite of being consitantly in the team medals.
"I am not happy with myself, but I am pleased with my horse," a disappointed McDonald said. "It was out of my control, it is just one of those times, that the body doesn't work with the brain. At least I lived the Olympic experience and I can return back home with my head up high."
Hubertus Schmidt, who said his goal was to finish in the top ten, landed in a fifth position and made his dreams come true. There was even more in store for him than a fourth place if Schmidt had not made the same mistake in the tempi changes as he did in the Special. "Again those stupid two flying changes. I cannot believe we made the same mistake again there," Schmidt said.
Nevertheless, Schmidt is cherishing his first Olympic experience. "This is definetely not a horse show like any other in the world. It lasts over one week, something that makes the horse aware that there is something extraordinary going on".
Robert Dover and FBW Kennedy placed sixth overall after a seventh place in his 78.475% scoring freestyle. "It was great, so much fun to ride. It is just a shame that my horse became a bit nervous in the beginning, because something bothered him at the back of the stadium," Dover explained. "He lost concetration for a while. It is a pity because we could have had an 80% today. The way he moved was like he was flying."
Guenter Seidel was very pleased with Aragon's performance in the freestyle. A 73.800% score placed them 13th in the kur and 14th overall. ''I am happy with my performance and very pleased with him," Seidel commented. "I was wondering how he would handle the electric atmosphere and I was concerned whether he could deal with this situation but he proved that he can. He is getting valuable experience from all this. I realise that he is a horse that can handle most situations. He was very focused today."
Photos copyrighted: Dirk Caremans
Photo Report by our "Photo Active Man" In-House Photographer Dirk Caremans
Back to the 2004 Olympic Games index