2004 Bundeschampionate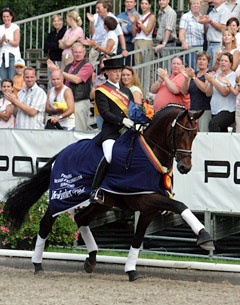 In the 5-year old Dressage Horse division at the 2004 Bundeschampionate in Warendorf, Germany, the champion's title went undisputedly to the Rhinelander stallion FS Lord Loxley.
No other horse in his division at this year's championships was in the proximity of his power, suppleness and ground coverage. Under his steady rider Jana Freund, FS Lord Loxley danced to victory after an virtually immaculate ride with great transitions and balance in every gait.
As much as FS Lord Loxley wielded the axe of power in the finals' ride, as baffling was his qualifying round in which he didn't score higher than 7.9 and was sent to the small finals to earn his ticket for the finals. FS Lord Loxley fell out of the canter and did not want to make a new transition to canter. The combination lost points with that mistake and surprised everyone by not taking the lead after all. In the small finals, however, Freund restored her supremacy and won the class with 8.7
From then on, it only went better. Their finals ride, for which they received a brilliant 9.5 score, the trot and canter tour were both the highlights of the test. "This was top class. He's a world horse," judge Christoph Hess commented, "he has a spectacular trot with a very good hind leg that stay closed. He keeps the nose nicely in front and is right on the vertical. His walk is through the back, his canter is excellent, uphill and forward." There was only praise for this combination.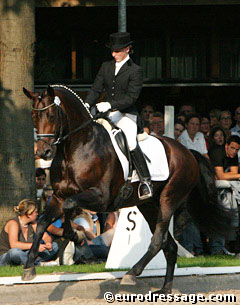 FS Lord Loxley has been making headlines his entire life. Bred at Gestut Sonnenhof in Belgium, the bay colt was licensed as a 2,5 year old at the 2001 NRW Stallion Licensing in Munster, Germany. There, Josef Wilbers of Ferienhof Stucker (FS) purchased him and that's how he became FS Lord Loxley. The stallion became fourth at the 2003 Bundeschampionate and won this year's NRW Nachwuchsmeeting which was a qualifier for the championships.
This year his fame seemed to have reached an apex. Under Freund, the stallion became the reserve champion at the 2004 World Championships for Young Dressage Horses in Verden and the Bundeschampion in Warendorf. And it doesn't look like this will be the end of his success...
Reflecting on his Bundeschampion's title, one can not help but wonder if the horse had won if his biggest competitor, Florencio, would have been at the show. Florencio's Dutch rider Hans Peter Minderhoud did not have an FN licence, which you can only obtain by living in Germany for six months. So, Florencio, a German bred stallion, was not present at the German Young Horse Championships but did go for a consolation victory in August by winning the Pavo Cup Finals in Holland with great ease.
Albeit, FS Lord Loxley was the man of the day in Warendorf and no one will dispute his title.
Destination Picks up Silver at Warendorf on the Road to Ankum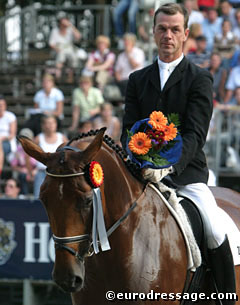 She's a hidden treasure, this mare; bay, stately, and elegant. She looks like a royal lady with manners, one who will only except a proper code of conduct from her rider and care takers. The Oldenburg mare Destination, by Don Gregory x Rubinstein, has the 2004 P.S.I. Auction in December as destination in her life where she will be sold, but she wanted to take a quick stop at Warendorf first to win the reserve champion's title in the 5-year old dressage horse division. It suits a lady well to be multi-talented.
While FS Lord Loxley is the undisputed winner of the 5-year old division, Destination and her rider Dr Ulf Möller have to face more criticism in defense of their second place. The mare is not a rubber "gummi" ball like world champion Florencio, nor a tower of power like the Bundeschampionate winner FS Lord Loxley. It is very easy -- and tricky -- for judges and spectators at the Bundeschampionate (and any other horse show) to be misled by those super active horses with flashy front legs, but who are in fact tense, not really moving from behind and avoiding back usage.
In Destination you see a nicely built horse with three solid basic gaits that are sufficiently uphill. She's not flashy, but she is pure quality and abounds in talent for FEI level competition. Most people don't see that, but fortunately the judges of the 5-year old division did.
Christoph Hess praised Destination for her looseness in the body, showing swing in trot and canter. "The walk is confident but could show a bit more opening of the frame. The trot is well uphill and balanced. Her canter could be a bit more expressive and uphill at times, but the transitions canter-walk were super from behind," Hess said. "She's a highlight to finish this class. End score 9.2."
"It is important the judges also look at the potential the horse has for the future and not only at what she offers at this show right now," Möller stated.
Dr Möller qualified two horses for the 5-year old finals. His World Championship bronze medal winning horse Amidou (Alcatraz x Langata Express xx) got fever right before the Finals on Saturday. He and the owners did not want to take any risk and transported Amidou to the clinic. Of course, he had to be withdrawn from the competition. "His health is much more important than this show," Möller said. Amidou recuperate within days and is fine now.
Flamm Shows D'Amour the Way to the Bronze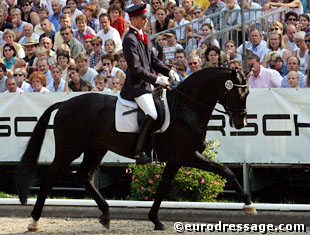 It doesn't always have to be dressage young horses veterans such as Holga Finken, Dr. Ulf Moller and Johannes Westendarp to win a medal at the Bundeschampionate. The young Christian Flamm had an amazing weekend at the 2004 Bundeschampionate.
In the five year old division Flamm finished third aboard D'Amour and in the six year old class he finished again third on the licensed stallion Samba Hit.
The 5-year old Oldenburg stallion D'Amour is by Dream of Heidelberg x Plaisir d'Amour and was bred by Heinrich Lampe and owned by Ulrich Vite from Priestewitz, Germany. Flamm presented the black stallion with much gusto. D'Amour danced through the ring.
The black stallion showed a delightful canter, uphill and in the right beat. His trot was strong from behind, through the back. "It's spectacular, but "truly" spectacular," Hess said, explaining that the horse was moving with excellent engagement and looseness in his body.
Flamm received 8.9 for his finals' ride and landed in bronze medal position.
Christoph Hess applauded Flamm's beautiful seat which is quiet and upright while Flamm maintains a very soft quiet contact with the bit.
Birgit Wellhausen-Henschke Returns to Glory with Donic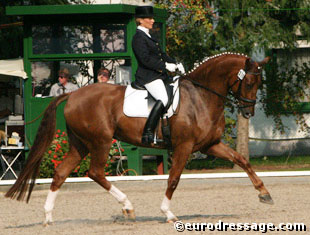 It's been a long time since Birgit Wellhausen-Henschke had a taste again of Bundeschampionate glory. In 1997 Henschke finished second in Warendorf riding Renommee, a black mare who later on won the very first World Young Horse Championships and was afterwards sold to Renske Quellhorst to fade away into oblivion.
In 2004, Birgit Henschke almost hit the jackpot again. Riding Vera Rätzmann's Oldenburg gelding Donic (De Niro x Golfclub), Henschke placed fourth with an 8.7 score. Donic is a lovely compact, yet impressive chestnut gelding who moves with great eagerness and functionality. The horse was presented in a beautiful classic way with no flamboyance, but with quietness in rhythm and balance.
"He has an energetic trot, uphill and swinging," Christoph Hess commented. "The extensions in trot are phenomenal. His canter is excellent and he shows much potential to collect. The walk pirouettes are the best we have seen so far. His walk is rhythmic but could be more ground covering."
Birgit Wellhausen Henschke lives with her husband Ulrich Henschke in Bremen and together they manage a dressage and sales facility.
Text and photos copyrighted Astrid Appels/Eurodressage - No reproduction allowed!
Back to the 2004 Bundeschampionate Index