Eurodressage Market - Services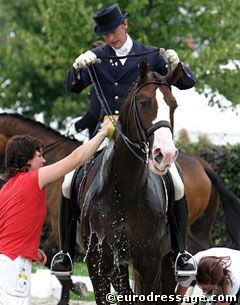 Ever wonder why competition horses looks so good? Coats shiny, hooves oiled, mane and tail immaculately groomed, tack clean and riders' boots shiny as a mirror.
The secret to all this perfection and brightness are professional grooms. They live and breathe horses and have turned their hobby into a full time job. They are the care takers of horses, with a heart for horses. They are the behind-the-scene people who make sure their rider's competition is smoothly organized with horses fed, cleaned and ready to be ridden.
In December 2002, Jenni Kiukonen from Finland decided to take up a career in horses and become a groom. She found the perfect job through the British agency "Career Grooms" and now works fulltime for Dr. and Mrs Wilfried Bechtolsheimer on their beautiful estate in Gloucestershire, United Kingdom. Jenni worked her way up to International travelling groom and now regularly travels to Switzerland, Spain, Germany, and other countries all over the continent looking after the horses for the very talented British dressage rider Laura Bechtolsheimer.
Jenni is now returning to Finland and highly recommends her job. If you are interested in being an International Travelling Groom for the Bechtolsheimer's, than please go to Career Grooms, where grooms can register for free and view over 75 jobs now available. The position at Stable Bechtolsheimer can be seen under reference number CJ109. Career Grooms can be reached at www.careergrooms.co.uk , by calling +44 207 289 6385 or by faxing your CV to +44 8701 385750.
At the moment, Career Grooms is also looking for a dressage trainer who will be working with a rider and her daughter who have advanced horses. They are open to discussions, but would be willing to let you use their premises for your own business at the same time – a fabulous opportunity! There is also a position open for a dressage rider experienced with young horses. This person will have the opportunity to bring on young horses, have training with top German trainer and chance to compete at all levels.
Career Grooms is the exclusive equine website for employment with horses globally. For the price of approximately 75 € you get access to a database of over 500 staff that you can contact immediately. Included in the price is six weeks access to our current database (a minimum of 50 new staff a week) and you can advertise as many jobs as you wish and hire as many staff as you need. It is all included in the initial registration fee.
There is approximately 500 current staff on the Career Grooms' website, but they also have another 800 staff that can view your positions even though you cannot see their details. If you are too busy to surf the web yourself – Career Grooms is happy to offer a bespoke service. Please feel free to give them a call – Desi Dillingham – Career Grooms. +44 207 289 6385 or visit their website and register on line now at www.careergrooms.co.uk