2005 German Youth Riders Championships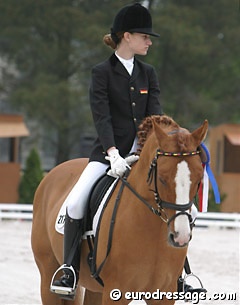 At the 2005 German Dressage Championships for FEI Pony, Junior and Young Riders, Louisa Luttgen, Kathleen Keller and Benjamin Werndl grabbed the national titles in their divisions.
The Championships in Zeiskam, Germany, were extremely interesting as the German European Champions Anna von Negri and Jessica Werndl were not able to fulfil their champion's role and claim the trophies.
In the FEI Pony division, it was the petite Louisa Luttgen on the licensed pony stallion Dornik B who outclassed her competitors. The 14-year old Luttgen won the second and third round with mid 70% marks and was only beaten in the first round by Sanneke Rothenberger, who finished second in round two and three with the routinier Konrad. Luttgen received the gold medal, Rothenberger the silver and the bronze went to come back kid Lydia Camp on Dulcia. The latter pair has been having a turbulent 2005 show season, first due to an injury of the pony and then having difficulties getting that top form back. The 2005 European Champion Anna von Negri and Deinhard B had some major difficulties in the first round and could not climb up to a medal position in the two following rounds. They finished fifth overall.
In the junior riders division Kathleen Keller and Florestan were the gold medallists. The pair won the Kur to Music with 72.743% and achieved the highest overall mark after three rounds. The silver went to Felicitas Kirschner on Pollay, while the bronze went to Miriam Maurer on the Belgian warmblood Quickfire.
Jessica Werndl won the 2005 European Young Riders Championships, but it was her brother Benjamin Werndl who was the best rider at the German Championships in Zeiskam. Aboard Sam, Benjamin Werndl won the kur to music and totalled 302.783 points, standing almost three full percentage points ahead of his sister Jessica who rode Duchess (299.2 points). Matthias Rath and Dideldudeldo Punkt ranked in the bronze medal position with 291.783 points. Rath did not compete his top horse Cantelli, because he spared him for the CDIO Aachen next week.
Overall Results
FEI Pony Riders
1. 1. Lüttgen, Louisa - Dornik B - 339.647
2. Rothenberger, Sanneke - Konrad - 335.519
3. Camp, Lydia - Dulcia - 325.825
4. Schäfer, Kaja - Golden Derano C - 322.768
5. Negri, Anna von - Deinhard B - 320.914
6. Frenzen, Annabel - Flamenco Star - 310.356
7. Rothenberger, Sönke - Wimbledon - 310.351
8. Isselhorst, Karina - Virgil - 306.717
9. Pytkowjat, Laura - Diddi Keeps Cool NRW - 306.082
10. Hahn, Friederike - Danny Boy B - 305.125
FEI Junior Riders
1. Keller, Kathleen - Florestan - 327.121
2. Kirschner, Felicitas - Pollay - 318.444
3. Maurer, Miriam - Quickfire - 313.065
4. Schütte, Christin - Hohenstaufen - 308.767
5. Konzag, Bastian - Water World - 308.105
6. Linde, Verena van der - Mitchell - 307.270
7. Wahler, Theresa - Ray of light - 306.962
8. Winkelhues, Katharina - Lavinia - 304.141
9. Müller, Stefanie - Wad Medani - 299.749
10. Fischer, Lukas - Welcome Forever - 296.664
FEI Young Riders
1. Werndl, Benjamin - Sam - 224.433
2. Werndl, Jessica - Duchess - 222.100
3. Rath, Matthias Alexander - Dideldudeldö-Punkt - 216.183
4. Viebrock, Dirk - Muchacho - 216.067
5. Linde, Carolin van der - Feinsinn NRW - 208.633
6. Sprehe, Kristina - Rose Noir - 206.970
7. Sprehe, Eva-Maria - Ephedra - 206.125
8. Köberle, Stephan - What's Up - 204.492
9. Ammeling, Karin - Kemorkus - 203.250
10. Gösmeier, Bea - Modern Classic - 203.075
Full scores at: www.djm2005.de
Photo copyrighted: Astrid Appels/Eurodressage
Related Links
Scores: 2002 German Youth Riders Championships
Giesen and Torloxten Complete Golden Triple Crown at 2001 German Youth Riders Championships
 Scores: 1999 German Youth Riders Championships