FEI Dressage News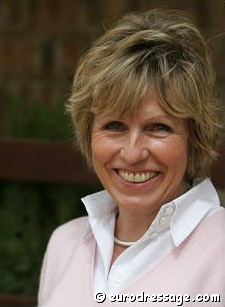 The Federation Equestre International (FEI) will be appointing three new O-judges as of January 2006. Eurodressage is the first to announce that they will be Jean-Michel Roudier, Katrina Wüst and Leif Törnblad.
The 55-year old German Katrina Wüst has structured her life into three main periods so far. From the early 1970s to the early 1980s she was a dedicated dressage rider, member of the German B-Team Dressage for about ten years, competing at German Championships, winning more than sixty competitions on a high level. She studied German and American Literature, combined with Communication Management and began judging at horse shows. In the 1980s she married and gave birth to three children, which did not leave her much time for dressage. At the beginning of the 1990s she quit competing and shifted the focus more and more on judging. In 1994 Wüst became an FEI judge and since then has judged at many international competitions in Germany and abroad. Katrina never fully gave up riding and she continues to dressage on her own horses as daily exercise. Furthermore, she occasionally writes articles for journals.
The 56-year old Danish Leif Törnblad is married to Anne Grethe Törnblad, former European and World Champion and Olympic Silver Medallist. He holds a masters degree in Political Science and Economics and works as a management consultant. Törnblad has been a dressage judge since age 23 and a Grand Prix judge since 1984. He was a Member of Danish Dressage Committee and Chairman from 1985 to 1992. He was Chef d´equipe for the Danish Senior dressage team from 1985 to 1992. Törnblad became an international judge in 1995, judging the World Cup Finals in Gothenburg in 2004, the Kampmann Cup Finals in Munich in 2003, and sat on the judges' panel for the European Championships for Ponies, Juniors and Young Riders seven times. Besides an active judging career, Törnblad also helped organizing the Volvo World Cup at Christiansborg Castle in Copenhagen (3 times), several CDI´s in Copenhagen, the European Championships for Juniors and Young Riders in Copenhagen and he was member of Organizing Committee of World Cup Finals in Århus.
The 49-year old French Jean-Michel Roudier started judging at regional level in France at age 19, the same year he took up riding Grand Prix schoolmasters. He moved up to national level at age 24 and became an FEI international candidate judge in 1988. His interest in international judging solidified the year before, in 1987, when he took up international judging courses with Lette, Niggli, Mechlem and Withages. In March 1990, Roudier became an FEI "I" judge. He has officiated at the French Dressage Championships every single year from 1988 to 2005 (with exception of 1999). He judged at five European Junior/Young Riders' Championships, eighteen World Cup Qualifiers and two World Cup Finals. For 2006, Roudier has been nominated to judge the World Young Horse Championships, the European Young Riders and Pony Championships and he will be the president of the Appeals jury for the 2006 World Cup Finals in Amsterdam. Jean-Michel Roudier is a radiologist by profession, but describes "horses, riding, dressage and judging" as his passion. He owns four horses of which three are trained at Grand Prix level.
Text and Photo copyrighted: Astrid Appels
Related Link
French Dressage Judges' Club (in French)