2006 World Cup Finals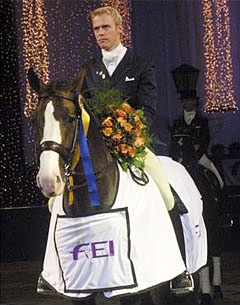 Laying the groundwork with a personal best in the grand prix, it was no surprise that Jan Brink and Bjorsells Briar went on to an overwhelming triumph in the FEI World Cup Freestyle, bringing the ecstatic crowd of over eight thousand in Stockholm's Globen arena to their feet.
Brink commented: "I am really critical so in a few places I thought I could have ridden better. It is only the third time I have ridden this freestyle and I am now working towards perfection."
It has been a phenomenal year for Brink who won two European medals then capped that to become the first Swede ever to win the Aachen championship. "It has been really great, and such fun", he said. The main aim is to return to Aachen next year for glory at the World Equestrian Games, so apart from CDI-W Neumuenster, he is thinking of the long-term this winter. " I like the World Cup a lot", he explained, "Briar is now 14 and really strong physically but I don't want to overdo it. I want him to be as motivated as he is now as he gets older and for that I will give him breaks before he needs them". Brink also has Briar's seven-year-old son to bring on to grand prix level.
Ellen Schulten-Baumer was thrilled with Donatha S, and second place put her at the top of the FEI World Cup standings. "Donatha was fantastic, I had a wonderful ride", said Ellen of the mare bought as a four-year-old at the Verden auction. "On the one hand she is really powerful yet she is also really elegant, and she is so uncomplicated for a mare". Ellen is planning next to take Donatha to Frankfurt, and with her Aachen Nations Cup team ride Lesotho also on form, she has two horses to campaign for the FEI World Cup season. With a total of nine horses, she has put studying aside to concentrate on riding. "I know I can't do everything, and I'm lucky to have lovely horses who are fun to ride, so I want to give them 100 per cent."
Ann-Kathrin Linsenhoff gained two perfect tens for Wahajama UNICEF's extended trot, one from Gustav Svalling at C. He commented: " Wahajama produced a marvellous extended trot. Unfortunately she made a big mistake in the one-tempis, but they should not worry - the rest is so good. Ellen did a good job, her mare has no weak points and I gave high artistic marks as the music really fits. Jan Brink and Briar's passage was a highlight although, for me, they were possibly even better in the grand prix."
Overall, Svalling commended the quality of the first five or six riders, and also remarked on the improvements shown this season by Louise Nathhorst. "Guinness is much lighter in his body", he said.
The next two rounds of the FEI World Cup take place in an intense week in December, with Anky van Grunsven leading the star-studded line up for the second Olympia qualifier, which will be followed closely by the first ever qualifier at Frankfurt.
Photo courtesy: Annica Feltendal/FEI
Back to the 2006 World Cup Finals Index