2006 CSI Zurich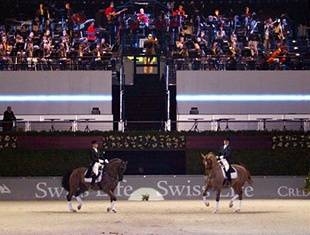 Swiss Life International CSI show jumping competition in Zurich, Switzerland, January 26-29, 2006, takes pride in being the indoor show with the biggest purse money -- 1 million Swiss francs -- that takes place every single year
and not whimsically liked hyped competitions such as Dubai. Show jumping comes alive in Zurich, but this year's edition it was dressage that captured the hearts of the crowds.
Marie-Line Wettstein and Simonne Staub, two Swiss Elite team Grand Prix riders, choreographed a unique pas-de-deux at Grand Prix level, which they performed five times at the Zurich CSI. The duo was musically supported by the renowned Swiss Army Band, a 100-headed orchestra directed by Major Philipp Wagner. Riding to music by Queen, Staub and Wettstein dazzled aboard their horses Robespierre and Le Primeur, who were donned with Swarovsky diamonds.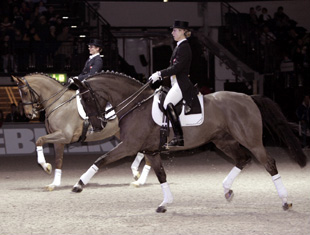 This pas-de-deux at the Swiss Life CSI was set up to raise attention to dressage in the hopes of having an international dressage and show jumping competition in Zurich in the future.
"The pas-de-deux was a huge success with great applause at the end of every show," Staub told Eurodressage. "We got so many positive comments, such as such "this is modern dressage - great". Even the jumper riders were very responsive and said it was "a great show" and "dressage can be interesting". We were all very delighted and it looks like dressage will become a part of the Swiss Life CSI in future."
Related Link
Simonne Staub Standing Out at the 2005 Sunshine Tour