French Dressage News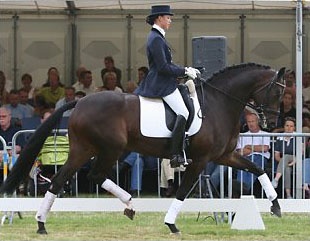 The Dutch equestrian newspaper Paardenkrant has published an interesting article with new information on the Poetin case. Xavier Marie, the last owner of the World Champion mare Poetin, is suing the Dutch ING Bank from whom he bought Poetin at the executorial sale in September 2005.
Dutchman Peter van der Zwan purchased Poetin at the 2003 P.S.I. Auction for 2,5 million euro. Two years later, the ING bank claimed the mare for an executorial sale because Van der Zwan was in financial problems. ING sold Poetin to Frenchman Xavier Marie for 900,000 euro at a public auction. Three months after Marie's purchase, Poetin had to be put down because she suffered from laminitis.
According to Paardenkrant, Marie is now trying to recover some of his money by suing the bank. At the auction, it was said that the mare had a mild irritation on the sesamoid, but in fact it was a tendon infection which was being treated with corticoid steroids. The mare wore therapeutic horse shoes at the auction. Considering her condition it was inhumane for her to be ridden at the auction and transported afterwards. Because it is illegal not to mention the steroid treatment in the sale of a horse, Marie believes he has a case against the ING Bank. He has starting up a legal procedure against ING and hopes to receive a large sum of indemnification. The verdict is May 18, 2006.
Source: Paardenkrant
Photo copyrighted: Leandra van der Heijden
Related Links
Poetin Passed Away 
Poetin Found and to Be Auctioned by Cees Lubbers 
900,000 euro for Poetin at Cees Lubbers' Executorial Auction