2006 CDIO Aachen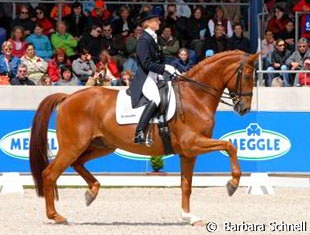 Audience and judges were "all shook up" by Nadine Capellmann's performance aboard her chestnut Hanoverian gelding Elvis VA at the 2006 CDIO Aachen. Winning all three classes in a tight duel with Finnish Kyra Kyrklund, Capellmann and Elvis stormed to the top
and have secured their place on the German team for the 2006 World Equestrian Games, which are held in Capellmann's home town Aachen in August 2006.
Nadine Capellmann was greeted with thundering applause when she entered the arena for the Kur to Music on Sunday May 21, 2006, and the ovations didn't stop until she gave the sign for her music to start. Riding to an Elvis Presley medley with traces of the King's voice here and there ("One for the Money, Two for the Show"), Capellmann presented a very smart choreography which replied completely to Elvis' current level in his Grand Prix training. Many of nice half passes in both trot and canter, much passage, great two-time changes, and a slightly tricky line of one-time changes and, of course, only very little piaffe as this is Elvis' weakest point at the moment.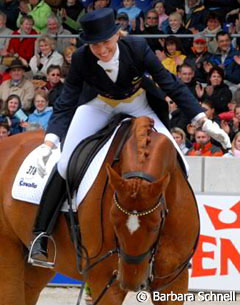 On the whole, it was a great joy to watch their ride and with a score of 80.850% she became the winner of the kur and the 2006 Grand Champion of Aachen, succeeding Jan Brink and Bjorsells Briar who took the title there last year.
"That I can return here with Elvis on the holy turf of Aachen after Farbenfroh's death is a very special feeling for me," Capellmann stated. "Elvis is really a dream horse. We can finally trust each other more and I notice that he's waiting for my aids and is eager to do it right. He is really extraordinary."
At the 2006 CDIO Aachen, Kyra Kyrklund put down absolute highlight performances aboard Yvette Conn's Swedish gelding Max (by Master). The liver chestnut gelding is more confirmed in his Grand Prix movements now and Kyrklund can push him more to full expression. The combination's lightness, harmony and willingness to work are exemplary.
Riding to Enrico Moriconi music, Kyrklund scored 80.150% for her freestyle and stayed very closely on Capellmann's heels in all her three tests at Aachen.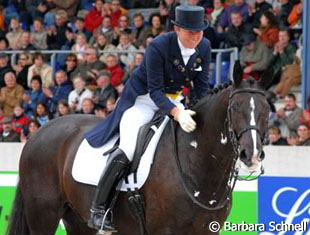 At the press conference, Kyrklund revealed that she might be riding a new kur at the World Equestrian Games in Aachen. She confirmed that she was going to do a completely new one and said that she'd developed this one for Max when he was still a baby, it being fairly simple and unsophisticated. She also said she'd heard much criticism on her music, which she liked very much, but "I'm not so stubborn, nor stupid, that I'd cling to it," she grinned.
The third place in the kur went to last year's winner Jan Brink on Bjorsells Briar (Magini x Krocket). At the World Cup Finals in Amsterdam in April, Brink mentioned that it's very hard to keep a horse on a high the entire show season. He's trying to achieve a peak at the World Equestrian Games, which means that one can't accept the same brilliance and power from Briar at every single show. His freestyle was still outstanding, but the walk could have been more ground covering and sometimes some strength behind was missing. Nevertheless, a 79.375% ranked them at a respectable third place.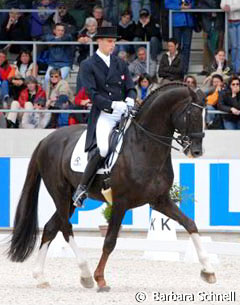 Andreas Helgstrand and Blue Hors Don Schufro scored 79.225% and ranked fourth. The harmony and fluency in the combination's ride are a true joy to watch. Helgstrand was ahead of his music during the first half of the kur, but then he caught on and delivered a very elegant performance.
Swiss Silvia Ikle and her Swiss bred gelding Salieri CH placed fifth with 77.225% and were followed in the rankings by Hubertus Schmidt on Wansuele Suerte (76.575%). Third German in the kur to music was Ann Kathrin Linsenhoff and Sterntaler Unicef. In the Special, the pair put down one of their best performances ever, placing third with 73.960%, but in the kur they finished in 10th place on 70.900%. They had a very controlled Special ride with Ann-Kathrin Linsenhoff steering Sterntaler through it with a safe hand.
The entire Special day on Saturday stormy weather disrupted the classes. Wind shook the whole arena and torrential down pours put several riders on hold. While German chef d'Equipe Holger Schmezer was watching Linsenhoff in the warm-up ring, ominous dark clouds came creeping in, and it was Andreas Helgstrand (performing) and Isabell Werth and Kyra Kyrklund (preparing in the warm-up arenas) who got the full-body treatment.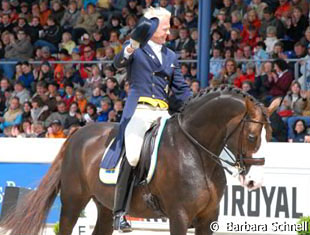 Andreas' test was interrupted, and he repeated it half an hour later, when the downpour had stopped and he had prepared Don Schufro again. Isabell and Kyra also fled into the indoor warm up ring, but they and their horses were already hopelessly soaked at the time, and "Hannes" nerves in the Special later on weren't quite up to that challenge. Isabell took it with exceptionally good grace though, despite the fact that she became the fourth placed German rider and didn't qualify for the kur to music.
The 2006 CDIO Aachen was an outstanding dress rehearsal for the 2006 World Equestrian Games in August. It was a pity so few Dutch A-riders showed up for a title match, but we can expect a true clash of the titans in the summer when Anky and Salinero will be taken head on by Nadine Capellmann on Elvis, Kyra Kyrklund on Max, Isabell Werth on Warum Nicht, Jan Brink on Bjorsells Briar and Andreas Helgstrand on Blue Hors Don Schufro.
Text and Photos: Astrid Appels - Barbara Schnell
Back to the 2006 CDIO Aachen index