French Dressage News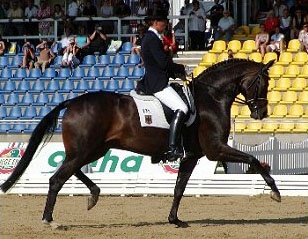 Dutch equestrian magazine De Hoefslag published some new information in the Poetin case today. Judge Poelmann, the vice president of the court in Amsterdam and judge in the Poetin case between the Dutch ING bank and Poetin's last owner Xavier Marie
, has decided that ING has to reveal their files relating Poetin's health.
Dutchman Peter van der Zwan purchased the Brandenburg mare Poetin in 2003 at the P.S.I. Auction for 2003. Due to a financial "dispute" with the ING bank, ING confiscated Van der Zwan's farm for an executorial sale. Poetin sold at the executorial auction in september 2005 for 900,000 euro to the Frenchman Xavier Marie.
Three months after Marie's purchase, Poetin was put down due to a severe case of laminitis. The ING bank refused to reveal of the medical files of the mare. Judge Poelmann decided that Marie legally has the right to review these medical documents. Poelmann believes that only after a viewing of those documents, Marie can decide if suing the ING Bank could be successful.
Source: De Hoefslag 
Photo copyrighted: Thomas Bach Jensen
Related Links
Xavier Marie Sues ING Bank in Poetin Case 
Poetin Passed Away 
Poetin Found and to Be Auctioned by Cees Lubbers 
900,000 euro for Poetin at Cees Lubbers' Executorial Auction