What's Happening in the Dressage World?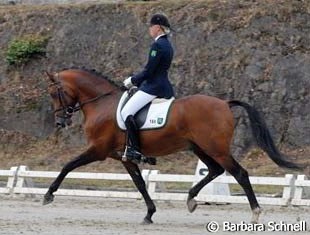 In Germany, several FEI ponies have moved on to new riders and owners. The 2006 European Pony Champion Dulcia will be ridden and competed by the 13-year old Carlotta Hassenburger. German European team gold medal winning pony has a new owner.Flamenco Star, the bay pony gelding who was ridden by Annabel Frenzen, sold to the Hessian area. Owner Rolf Stassen sold his lovely pony to the Schmadl family.
Former Dutch young rider Annemiek van der Vorm has ended her contract with Stable Nijhoff in the Netherlands. After having worked for Ullrich Kasselmann, Van der Vorm moved to Jeanette Nijhoff's stable where she got the ride over the KWPN licensed stallion Scandic. The Dutch equestrian newspaper Paardenkrant reported that Van der Vorm and Nijhoff ended their partnership. "There's not enough work," Annemiek stated.
Van der Vorm's medal winning young riders's horse, Agrovorm's Incredible, will be competed by the former Dutch pony rider Michelle van Lanen. The rising 17-year old Incredible (by Voltaire) was reserve European Young Riders Champion in 2001. Michelle van Lanen, who won team silver with her pony Basalt, will ride at Junior Riders' level with Incredible. Her German bred pony Basalt has a new rider too, Miss Meulendijks, who'll try for the team with him next year.
An observer at the Bundeschampionate mailed us telling that the Warendorf showneeds Stewards desperately. This observer mailed Eurodressage the following: "This show needs stewards who keep an eye on what's going on in the warm-up and training rings, and who are not afraid to speak up! Everybody talks about Anky van Grunsven, but the whole Bundeschampionate was full of folks who did much worse, because they know that this is probably as far as their horses will ever get."
The Hanoverian licensed stallion Laptop(Loredo x Calypso II) died at the Flyinge State Stud in Sweden. The horse was already operated on a severe colic attack a couple of months ago and unfortunately passed away in August.
Flyinge, the National Stud of Sweden is hosting a CDI competition 6-8 October 2006. Initially, there will be one big and one small tour for Seniors, one tour for Young Riders and a team competition with two Senior Riders and two Young Riders in each team. World Champion Anky van Grunsven will be riding there. It's be her first time back in Sweden since the World Cup Final in 1998. She will bring three horses, one Grand Prix-horse for the big tour, one horse for the small tour and one Grand Prix horse for the demonstration.  
Yvette Truesdale marked her move back to Northern Ireland from England in the best possible way by scoring a hat-trick of wins at the Irish Dressage Championships at Cavan Equestrian Centre Saturday 2nd and Sunday 3rd September 2006. with the Jim Burgess owned Has to be Fun. Previously based at Carl Hester's old yard at Hooze Farm, Eldersfield, Gloucestershire, Yvette enlisted the help of her friend and young rider chef d'equipe Jennifer Somerville to assist with the move to her new base at Brookvale Farm, Saintfield, County Down.
Who's superstitious? Both Anky van Grunsven's Salinero and Jos Lansink's CavalorCumano were stabled in the same box at the 2006 World Equestrian Games inAachen. Both horses won the individual gold medal. Maybe that box should be painted gold in the future.
Arnd Erben has ended his employment at Gestut Kampmann in Lingen. Erben was contracted in February 2006 to be the Kampmann young horse trainer and rider, but Kampmann and Erben already ended their partnership this summer.
Gijs Bartels, son of Joep and Tineke Bartels and the director of Academy Events, became the proud father of baby boy Stef on July 24, 2006. Mother of the boy is girlfriend Esther Tacken, the office manager at Bartels' Horse Academy.
We had a bit of a chuckle when Phelps Media Group, owned and managed by Floridian Mason Phelps, posted a press release that they are going to change the way equestrian sports are covered online. With a Napoleontic air, Mason Phelps announced that he would change the equestrian with his media coverage on the PMG website and their spin offs. Phelpssports (spin-off PMG for which you need to pay to access it!!) blundered in their coverage of the 2006 World Young Horse Championships in Verden sending out of PR full of mistakes revealing no in-depth knowledge of horse breeding and dressage. Phelpssports proclaimed Phelpssports "is taking coverage of world wide equestrian events to a new level." Ha! We wish them good luck! If a commercial mind is not backed up by a real passion for horses, it'll be very difficult to make it in the equestrian media world, certainly on the internet!
After the 2006 World Equestrian Games, several riders took a break from horses. Isabell Werth spent five days in Spain, Edward Gal and boyfriend Hans Peter Minderhoud spent ten days on the Caribbean island Aruba, a former Dutch colony. In the future, Gal will be riding Roh Magic. This Westfalian stallion stood up for stud at the Landgestut in Warendorf and was ridden by Claudia Krabbenhoft. Gal will now train the bay stallion to FEI level. Gal's team mate Anky van Grunsven, however, left Aachen to go straight to Spruce Meadows, Calgary, where she had to do a demo ride on Krack C.