2006 Swedish Dressage Championships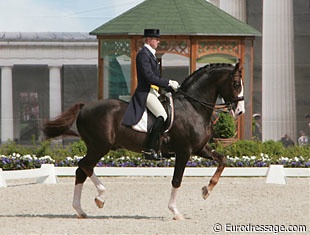 Jan Brink captured his fifth national dressage champion's title in his career at the 2006 Swedish Dressage Championships in Stromsholm, Sweden. With a 79.150% score in the Kur to Music and two wins in the Grand Prix (73.292%) and Grand Prix Special (76.520%)
, Brink and Bjorsells Briar (Magini x Kroket) produced an average score of 76,321 and stayed almost four percentage points ahead of the silver medallist, Louise Natthhorst.
With her Licensed Danish warmblood stallion Guinness (Dolomit x Elizar), Nathhorst was third in the Grand Prix (69.500%) and Special (71.480%) behind Tinne Vilhelmson, but her Abba inspired freestyle earned her 76.150% enough to claim the silver medal.
Bronze went to Tinne Vilhelmson on the Danish warmblood stallion Solos Carex (by Castro x Lagano). Vilhelmson landed two second places in the Grand Prix (71.083%) and Special (71.920%) but for her freestyle, she got 73.650% and dropped till third place.
Maria Erikkson and his Swedish warmblood gelding Galliano (Labrador x Collin) finished fourth in the overall ranking.
Results
Grand Prix
1 Jan Brink Briar - Bjorsells Briar - 73,292
2 Tinne Vilhelmson - Solos Carex - 71,083
3 Louise Nathhorst - Guinness - 69,500
4 Maria Eriksson - Galliano - 66,333
5 Wiveca Schenholm - Nobel - 64,000 S
6 Camilla Toll - Rainman - 63,292
7 Kristian von Krusenstierna - Wilson - 63,000
8 Emma Karlsson - Faradera - 62,833
9 Ulla Håkanson - Hyggebos Lidro - 61,625
10 Liane Wachtmeister - Chivas - 61,292
11 Jennie Larsson - Goch - 60,833
12 Helena Lindmark - Heros - 60,333
Grand Prix Special
1 Jan Brink - Briar - 76,520
2 Tinne Vilhelmson - Solos Carex - 71,920
3 Louise Nathhorst - Guinness - 71,480
4 Kristian von Krusenstierna - Wilson - 68,520
5 Maria Eriksson - Galliano - 67,560
6 Camilla Toll - Rainman - 65,360
7 Jennie Larsson - Goch - 63,880
8 Emma Karlsson - Faradera - 63,840
9 Wiveca Schenholm - Nobel - 62,760
10 Ulla Håkanson - Hyggebos Lidro - 62,320
11 Liane Wachtmeister - Chivas - 61,720
12 Helena Lindmark - Heros - 61,560
Grand Prix Kur to Music
1 Jan Brink - Briar - 79,150
2 Louise Nathhorst - Guinness - 76,150
3 Tinne Vilhelmson - Solos Carex - 73,650
4 Kristian von Krusenstierna - Wilson - 71,100
5 Maria Eriksson - Galliano- 70,650
6 Camilla Toll - Rainman - 70,250
7 Liane Wachtmeister - Chivas - 64,900
8 Ulla Håkanson - Hyggebos Lidro - 64,400
9 Wiveca Schenholm - Nobel - 62,850
2006 Swedish Dressage Championship
1 Jan Brink - Briar- 76,321
2 Louise Nathhorst - Guinness - 72,377
3 Tinne Vilhelmson - Solos Carex - 72,218
4 Maria Eriksson - Galliano - 68,181
5 Kristian von Krusenstierna - Wilson - 67,540
6 Camilla Toll - Rainman - 66,301
7 Wiveca Schenholm - Nobel - 63,203
8 Ulla Håkanson - Hyggebos Lidro - 62,782
9 Liane Wachtmeister - Chivas - 62,637
10 Emma Karlsson - Faradera - 62,833
11 Jennie Larsson - Goch - 60,833
12 Helena Lindmark - Heros - 60,333
Photo copyrighted: Astrid Appels / Eurodressage
Related Links 
Jan Brink Claims Fourth National Dressage Champion's Title 
Coverage of the 2004 Swedish Dressage Championships