2006 Equine Elite Auction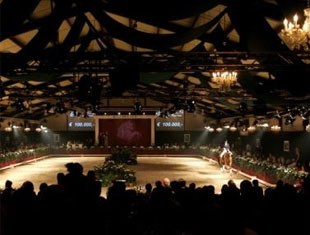 The second edition of Equine Elite was even more spectacular than the first one with very talented horses, fantastic light shows, music, food and atmosphere. On arrival, the guests were met by valet parking and led over a red carpet into the world of Equine Elite – The Amsterdam Diamond Centre (Gassan Diamonds) was present with numerous exclusive watches, jewelery and, of course, diamonds.
Once inside, the guests were presented with a welcome drink of champagne, with a twist – at the bottom of every glass was a stone which could be checked by diamond experts and several of the glasses contained real diamonds!
The afternoon was an exciting warm up to a seriously spectacular auction which was opened by Talita Angwarmasse, a leading musical star, and several dancers. The quality of the Equine Elite selection was overwhelming and the bidders seemed to agree.
The organisation does not want to publish the prices as they feel that the exclusivity of the auction must be maintained but the average price of 37 horses sold was just under 75,000 euro.
The auction price highlight, the spectacular three year old mare Willow (by Florett As x Lux), was sold to Lieke Sonnenberg from Switzerland for 310,000 euro, who will put the horse in training with Imke Schellekens-Bartels. This was a bitter disappointment for the Swedish counter-bidders, who did end up buying Dolce Vite (by Diamond Hit). The beautiful dark bay dressage horse will go in training with Peter Markne and Per Sandgaard. British Andrew Gould acquired the long legged Renaissance (by Ruiz Soler).
Buyers came from all corners of the world for what has rapidly become one of the most exclusive events in Dressage. France, England, Switzerland, Finland, Germany, Mexico and the U.S.A. were amongst the most active bidders and the cheapest horse at the Equine Elite was sold for 16,000 to an English buyer.
The halfway point of the auction turned it all into an even more spectacular event with the arrival of the famous Dutch entertainer, Gerard Joling, who managed to turn the Equine Elite arena into a dancefloor for the duration of his performance.
All in all, the Equine Elite 2006 was a booming and spectacular success and 12 of the 65 VIP tables have already been sold for 2007 edition of the auction.