2007 Preis der Besten Qualifier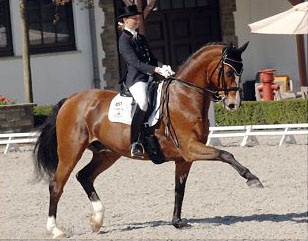 The Rothenberger kids dominated the South German qualifier for the 2007 Preis der Besten. The qualifier, which counted for the Hessian, Baden Wurttemberg and Bavarian provinces, was beautifully hosted at Ann Kathrin Linsenhoff's Schafhof and took place in tropical weather.
In the pony division, the Rothenberger kids won everything and they were joined in the top ranking by their cousin Nicola Krause. Sanneke Rothenberger won both classes about Konrad, who is fit again and ready for yet another show season. Sönke Rothenberger placed second on the 2005 European Pony Champion Deinhard B.
The Junior riders division was also won by Sanneke Rothenberger. Aboard Paso Doble (by Don Primero), she scored far higher than the other riders. The best young rider was Anna Katharina Gerber on Little Lady (by Lord Sinclair x Sandro).
Results
Pony Riders - Day 1
1. Sanneke Rothenberger/Konrad (Hessen) 829
2. Sönke Rothenberger/ Deinhard B (Hessen) 810
3. Nicola Krause/Going East (Hessen) 789
4. Sanneke Rothenberger/Domino Dancing (Hessen) 786
5. Nicola Krause/Frederiksbergs Mozart (Hessen) 781
6. Sönke Rothenberger/Wimbledon (Hessen) 779
Pony Riders - Day 2
1. Sanneke Rothenberger/Konrad (Hessen) 894 Punkte
2. Sanneke Rothenberger/Domino Dancing (Hessen) 860
3. Sönke Rothenberger/Deinhard B (Hessen) 853
4. Nicola Krause/Going East (Hessen) 851
5. Sönke Rothenberger/Wimbledon (Hessen) 844
6. Nicola Krause/ Frederiksbergs Mozert (Hessen) 810
Junior Riders - Day 1
1. Paso Doble/ Rothenberger, Sanneke (Hessen) 851.000
2. Rulaman/ Eppinger, Anne (Baden-Württemberg) 826.000
3. Royal Gala/ Pytkowjat, Laura (Baden-Württemberg) 807.000
4. Bourbon K/ Trischberger, Franz (Bayern) 803.000
5. Dynamico/ Helmling, Bianca (Hessen) 787.000
6. Fürst Charly/ Krause, Nicola (Hessen) 786.000
Junior Riders - Day 2
1. Sanneke Rothenberger/ Paso Doble (Hessen) 819
2. Franz Tischberger/Bourbon K (Bayern) 811
3. Anne Eppinger/Rulaman (Baden-Württemberg) 810
4. Laura Münch/Rubina (Bayern) 800
4. Laura Pytkowjat/Royal Gala (Baden-Württemberg) 800
6. Bianca Helmling/Dynamico (Hessen) 786 D
Young Riders - Day 1
1. Little lady/ Gerber, Anna-Katharina, 901.000
2. Lancia/ Bingmann, Tiffany, 893.000
2. Raffaelo Santi/ Gerber, Anna-Katharina, 893.000
4. Don Boy/ Koser, Jacqueline, 883.000
5. Cheops/ Anthes, Dominique-Nadine, 881.000
6. Free Floating/ Kirchhoff, Senta, 874.000
Young Riders - Day 2
1. Anna-Katharina Gerber/Little Lady (Bayern) 829
2. Jacqueline Koser/Don Boy (Bayern) 813
3. Tiffany Bingmann/Lancia (Baden-Württemberg) 810
4. Anna-Latharina Gerber/Raffaelo Santi (Bayern) 804
5. Victoria Hörnke/Vendor Go (Hessen) 793
6. Anna-Catherine Adam/Ali (Bayern) 784  
Photo courtesy: Schafhof
Related Links 
Rhineland Selection Trial for 2007 Preis der Besten Qualifier 
Sanneke Rothenberger and Domino Dancing
Konrad to Sanneke Rothenberger 
Deinhard B and Dino P Sold to Sven Rothenberger