2007 Equine Elite Auction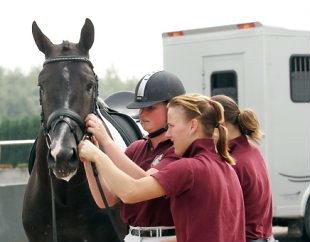 It took the Equine Elite selectors almost 10 days to sift through the overwhelming amount of horses that attended the selection days for the prestigious auction that will be held on the 27th October. Horses were presented from Holland (of course) but also Scandinavia, Germany, Belgium and even the United States.
Due to take only 3 days the selections actually went on for seven. The first vettings have been underway since Monday and, as expected, several horses have failed to meet the vetting criteria.
"It isn't that all of these failures are unhealthy horses but the vetting criteria laid down by Equine Elite is a lot stricter than a day to day vet check. Some of these horses would normally pass a vetting without any real problems" Diederik Wigmans stated. "It has been extremely difficult to make the final selection. The quality of the horses we were presented with was much higher than we had initially expected and the amount of entries was enormous, which means we have had to discuss them in a lot more detail than in previous years. We also are looking to maintain our initial objective which was to auction a diverse group of horses suitable for all sorts of different riders."
The selections are now closed although 5 wild cards are still up for grabs. The first horses are expected to be published on the Equine Elite website in the first week of September after which they will all be available for trial rides (by appointment only) all the way up to the auction on 27th October, 2007.