Australian Dressage News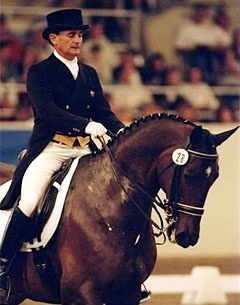 Highly respected Australian Maurice Bruce has been forced to retire from riding following an assessment of a recent head injury by his medical advisors. Maurice suffered a Traumatic Brain Injury at a Dressage Competition in April 2007 when his horse slipped and fell
throwing him to the ground where he lay unconscious until airlifted to St. George Hospital. He remained in a life and death coma for two weeks before finally regaining consciousness.
The road back to health has been a long, however after many months of intense rehabilitation his improvement has been excellent and over the past few weeks Maurice has ridden several times at his indoor arena in Berry: recently requesting clearance from his medical advisors prior to recommencing his competitive career.
The verdict was final and devastating: another head trauma could be fatal and he should never ride again.
Brain trauma is accumulative and this was not the first time he had been 'knocked out', there had been other occasions. As a young man he played 1st grade Rugby Union for Gordon, playing 42 first grade games before he was 21 and was listed as an Australian Rugby Representative to play South Africa in 1966. Between football and riding he has been taken to hospital, unconscious, 5 times. This most recent incident has spelt the end of an illustrious riding career and if ignored could very well end his life.
Maurice remains shattered by the findings: a former Pharmacist, for the past 27 years he and his wife Jane have built their lives around their own Neversfelde Stud: breeding, training and competing at the top level on Warmblood horses they have produced.
A highly respected rider both here and internationally, Maurice has a long list of awards to his name which include 3 time winner of the Volvo Australasian World Cup Dressage Championships, World Equestrian Games representative for Australia & a string of National titles including Australian Eventing Champion.
Press release from Shoalhaven Dressage Association.
Related Links
2005 Australian Dressage Championships
Australian Dressage Squads for 2006 Announced