Eurodressage F.O.C.U.S.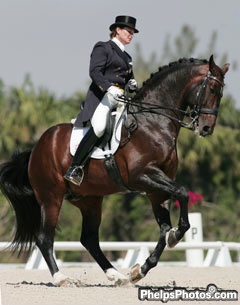 After a two-year recovery period, Leslie Morse's Dutch bred and Oldenburg licensed stallion Kingston (by Voltaire) has successfully returned to the show scene. He became the FEI High Point Champion at the CDI-W Burbank in California, USA, March 2, 2008, winning the Grand Prix Kur to Music with 71.450%.
Kingston's return to the ring was an overwhelming experience for his owner and rider Leslie Morse. On their first competition ride, the Grand Prix, Leslie was directly confronted with her feelings: During her ride, she realized that her her true passion for horses and Kingston's will to heal made her to endure the hard two-year struggle en route to recovery. Their Grand Prix ride was fraught with mistakes but it proved Kingston's fitness and strength.
"I was an emotional basket case in the Grand Prix," Morse confessed. "Kingston felt fresh and forward in the warm up and really powerful. I was quite nervous to enter the ring because I halted and forgot to salute. Kingston grew in strength and in the extended trot I felt such power and scope I had not felt in two years. He felt so "wow" that I got totally overwhelmed., I can't explain it. I was so happy to be back with him, but also got scared all of a sudden that he would injure himself again. I got frozen in the saddle and made mistakes. I didn't care about the mistakes, I was thrilled, ecstatic and emotional. It was the accumulation of all my feelings of the past two years."
Leslie regained her cool for the Kur to Music and rode her Pirates of the Caribbean trademark freestyle, copied by many a rider, on a enthusiastic Kingston. Their score of 71.450% was proof that they are still a pair to be reckoned with. They have also valorized their intention to be considered again for the American Dressage team.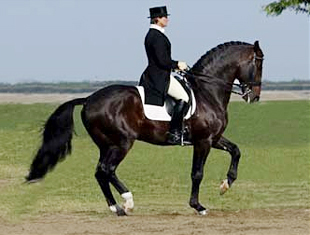 Competing international dressage horses inadvertently implies meticulously managing their health and welfare. These horses, shown at the highest level in dressage, are more prone to sport injuries just like human athletes in any other discipline.
Kingston's accident happened two years ago. He had stepped in a hole and tore his tendon for 80%. With careful veterinary attention it took one year for the tendon to heal and another solid year for Leslie to bring him back to the highest level in dressage.
"Bringing Kingston back to health has made me realize more than ever how special he is and how lucky I am to have him in my life," Leslie revealed. "It has been a gift to have been able to travel the world the past 7 1/2 years and learn dressage together."
The past two years, Leslie and Kingston have moved forward to a new chapter. "It is not easy to rebuild after an accident like Kingston had if it wasn't for his strong blood and character. He has beaten the odds."

Leslie and Kingston are happily moving forward and scored 67.583% last weekend at the CDI-W Del Mar in California. They finished third and are on the rise.
Top photo copyrighted: Mary Phelps/Phelpsphotos.com
Related Links
Viva Las Vegas - Leslie Morse and Tip Top Going For for Freestyle!
Leslie Morse, Raising the Bar For 2005