2008 European Pony Championships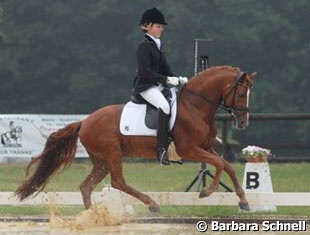 German Chef d'Equipe Connie Endres has selected the definite team that will represent Germany at the 2008 European Pony Championships in Avenches, Switzerland, July 24-27, 2008.
The German Pony Teamincludes:
Carlotta Hassenburger - Dulcia
Katharina Weychert - Dornik B
Sönke Rothenberger - Deinhard
Florine Kienbaum - Going East (pictured)
The reserve combinations are Mali de Sainte Fare on Doubtless and Theresa Bausch on Dornik Double.
The nomination of the team took place after the final German E.C. pony selection trial at the CDI Neubeeren, July 22, 2008. Big absentee in Neubeeren was Carlotta Hassenburger on the former European pony champion Dulcia. The palomino mare sustained an injury a while ago (a laceration on the hoof) and is now recovering. "The laceration has now healed up completely and Dulcia is in training and doing well," Hassenburger told Eurodressage.
Photo copyrighted: Barbara Schnell
Back to the 2008 ECP index