2008 CDIO Aachen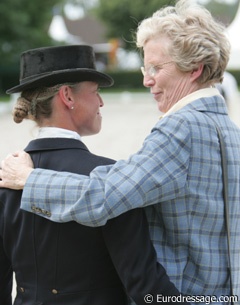 The 2008 CDIO Aachen reconfirmed Isabell Werth's number one position in the European Dressage world. In the absence of Anky van Grunsven and Salinero, Werth was unbeatable winning the CDIO tour with Satchmo and CDI tour with Warum Nicht FRH.
It's always great to see when a horse owner/sponsor gets moved by his/her horse. Based in Mellendorf near Hannover, Germany, Madeleine Winter-Schulze is a multimillionaire as the heir of the Audi/Volkswagen/Porsche Berlin dealership. She and her husband Dieter are great sponsors of the German dressage (Isabell Werth) and show jumping sport (Ludger Beerbaum). In 2006, insiders claim that the couple had invested over 15 million euro in the equestrian sport. "I'm crazy about horses,"Madeleine Winter Schulze said, "and I look forward to every ride."
We finally know for sure that Nadine Capellmann reads Eurodressage. In our CDI Hagen photo report, we wrote that Capellmann should smile more when she's aboard Elvis. In Aachen, her usually stern face made room for a big Colgate smile and oh my god, what a difference it made!!! During her kur to music, Nadine actually showed that she was having fun riding her hugely talented Elvis!
By the way, there are two new men in Nadine's life who are putting a smile on her face! A new man,Marc Schneider, and a new Grand Prix horse, the Danish warmblood Riverbanks Raffaldo. This liver chestnut gelding is by Come Back II x Raffaelli Z x Woernitz and is bred by Preben Vinther. The Finnish Nina Polonen showed the gelding at small tour level but the horse is Grand Prix ready and will make his show debut under Capellmann in the winter.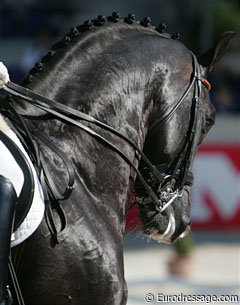 Double Ferro action in Aachen: Jordi Domingo qualified for the Olympics with Prestige (left). Belgian Stefan van Ingelgem is taking the international dressage world by storm, solidly scoring between 68 - 70% at CDI's in Europe. His partner: Withney van 't Waaifhof (right). The black licensed stallion is typical Ferro: a quick trot (which lacks suspension) and a superb piaffe and passage in which the horse pulls his hocks up high.
Two young riders were invited to compete at the CDIO Aachen: Kirsten Sieber and Hedda Droege. The latter only recently made her move to Grand Prix and showed lovely piaffe/passage with Fifth Avenue (by Florestan x Rubinstein). Droege is trained by Jurgen Koschel.
Former British young rider Maria Eilberg got the news that she will be Britain's travelling reserve for the dressage team only few days before Aachen. Aboard her Westfalian Two Sox (by Ehrentusch) Eilberg got the chance to ride against the big guys in Aachen.
The rollkur debate remains to be a hot topic three years after the discussion exploded following an article printed in St. Georg. At the 2008 CDIO Aachen, Edward Gal's Totilas (by Gribaldi) gave away the system he is trained in by positioning his head in the roll kur during the begin and end halt and in the rein back in the Prix St Georges test.
The oldest horse in competition at the CDIO Aachen: Francoise Hologne Joux's 19-year old Czech bred Born. This horse was not the high flyer, finishing 16th in the CDI Grand Prix (64.042%) but he has a piaffe and passage which is better and more expressive than many of the 70% scoring horses!!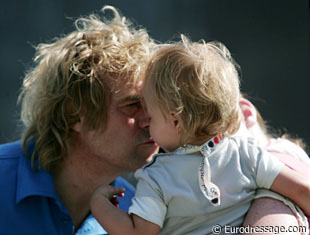 In between class breaks, 58-year old Dutch team trainer Sjef Janssen takes a break to cuddle with his children. Left: Yannick Janssen van Grunsven, right: Ava Eden van Grunsven. Sjef Janssen is the son of "Sjefke" Janssen, one of Holland's most successful cyclists ever. Sjef was an insurance agent before he bought his first farm Stable Waterval in Ulestraten, The Netherlands. This stable went bankrupt though. In 1988, Janssen met Anky van Grunsven at the CDI Schoten and they have been working together ever since, though Anky had also trained with Piet Oothout, Henk van Bergen, Jo Willems, Jo Hinnemann and Jan Bemelmans.
2008 is a year of great new partnerships for Swedish Patrik Kittel. He has been riding the Westfalian licensed stallion Floresco (by Florestan) for quite some time, but made his big international Grand Prix break through with him this year and made it on the Swedish Olympic team. Kittel also has a new girlfriend, the Australian Lyndal Oatley (cousin of Kristy Oatley)
The future of German dressage? Only very few new German Grand Prix combinations are appearing on the scene but one new pair isHubertus Schmidt with Heinrich Kampmann's Franziskus. The horse has lost all trust in the rider but with Schmidt he is gaining confidence every day.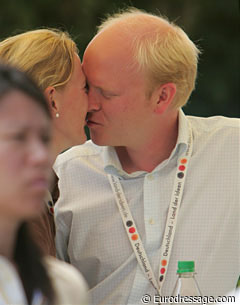 Royal love: Danish Princess Nathalie Zu Saeyn-Wittgenstein kissing her boyfriend Alexander Johannsmann.
Australian Maree Tomkinson competed Lanzaro. Her European stint is coming to an end in September. The Australian trained at Koschel's farm in Hagen, Germany and will do two more shows before going back to Australia. She'll be riding her young horse Diamantina at the World Championships and Bundeschampionate.
All photos copyrighted Astrid Appels/Eurodressage.com
No Reproduction Allowed without Permission/Payment
Eurodressage took photos of all riders competing in Aachen!
If you want to order photos, please email us with the name of the rider and pony and we'll send you proofs!
Back to the 2008 Aachen Index