German Dressage News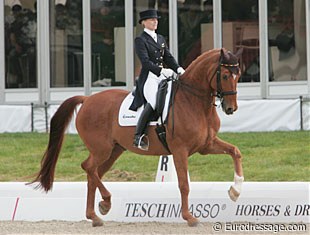 Their partnership did not last very long but Nadine Capellmann has split from her trainer Jurgen Koschel. In April 2008, Capellmann announced that she hired Koschel to guide her in her preparation of Elvis VA for Olympic qualification.
Even though the horse has gained confidence and solidity the past half year, several issues with trust and contact with the bit have stayed unresolved.
Capellmann decided to split from her trainer and has resorted back to German chef d'equipe Holger Schmezer for help. Schmezer became Capellmann's ad interim coach when she separated from boyfriend/trainer Martin Schaudt, but he was a temporary solution as Schmezer lives too far away from Capellmann's home base in Aachen for regular training. Koschel succeeded Schmezer but could not enable to right connection between Nadine and Elvis.
Capellmann was most successful as a rider under her long time trainer Klaus Balkenhol, winning individual gold with Farbenfroh at the 2002 World Equestrian Games in Jerez, Spain. In 2005, however, she gave up Balkenhol for Martin Schaudt.
Photo copyrighted: Astrid Appels/Eurodressage.com
Related Links
Jurgen Koschel Hired as Nadine Capellmann's New Trainer
Martin Schaudt No Longer Training Nadine Capellmann