2008 CDI-W Sydney - 24 - 26 October 2008
Prix St Georges - CDN
1. Tor Van den Berge - Fisherman's Friend - 68.150
2. Judy Dierks - PSI De Caprio - 66.650
3. Tor Van den Berge - Florett - 66.550
4. Matthew Dowsley - Northern Simba - 66.200
5. Rozzie Ryan - Jive Magic - 65.900
6. Nicholas Fyffe - Ferrero Rocher - 65.650
7. Jessica Greelish - Riverndell Parador - 64.200
8. Ann Serrao - Silvery - 62.800
9. Alycia Targa - Neversfelde Kudu - 62.650
10. Daniella Dierks - Concordance - 62.650
11. Brett Parberry - Welthill - 62.200
12. Susan Page - Rohcardo - 61.500
13. Linda Foster - Gracefield Stefan - 61.250
14. Linda Foster - Mauritius - 61.050
15. Kaz Roe - For Joy - 61.000
16. Ros Tippert - Broadstone Dramatik - 60.850
17. Sue Hearn - Don Romeo - 60.750
18. Sharon Potter - Montevideo - 60.500
19. Rebecca Woff - APH Showman - 60.300
20. Caroline Wagner - WS Nevada - 60.300
21. Jodie Barnes - JC Spiderman - 59.800
22. Ruth Schneeberger - Hervey Bay - 59.550
23. Hayley Gilbert - Odiana K - 58.250
24. Samantha Bartlett - Gershwin E - 58.200
25. Meaghan Willis - Roxbury Armistice - 58.050
26. Jodie Newall - Kragelunds Donovan - 57.450
27. Megan Hewitt - Northern Amadeus - 57.300
28. Anne Riley - Macho Grande - 57.200
29. Bernadette Gibson - Christoph Amarcus - 55.600
30. Lesley-Anne Taylor - Welpe's Countess - 53.500
Intermediaire I - CDN
1. Tor Van den Berge - Florett - 68.200
2. Tor Van den BergeE - Fisherman's Friend- 67.200
3. Matthew Dowsley - Northern Simba - 66.600
4. Rozzie Ryan - Jive Magic - 66.600
5. Daniella Dierks - Concordance - 64.000
6. Ann Serrao - Silvery - 63.650
7. Adam Vellere - Moscow - 63.400
8. Alycia Targa - Neversfelde Kudu - 63.350
9. Brett Perberry - Welthill - 61.850
10. Caroline Wagner - WS Nevada - 61.650
11. Ros Tippert - Broadstone Dramatik - 61.600
12. Claire Seidl - Rolex - 60.700
13. Susan Elekessy - Versailles - 60.650
14. Anne Riley - Macho Grande - 60.550
15. Kate Wilson - La Viva - 60.250
16 Nicholas Fyffe - Ferrero Rocher - 60.100
17. Nina Boyd - Belcam Aarchon - 60.100
18. Meaghan Willis - Roxbury Armistice - 59.950
19. Hayley Gilbert - Odiana K - 59.900
19. Kaz Roe - For Joy - 59.900
21. Rebecca Woff - APH Showman - 59.600
22. Samantha Bartlett - Gershwin E - 59.450
23. Ruth Schneeberger - Hervey Bay - 59.400
24. Susan Page - Rohcardo - 58.950
25. Linda Foster - Mauritius - 58.900
26. Jodie Barnes - JC Spiderman - 58.650
27. Jodie Newall - Kragelunds Donovan - 58.450
28. Megan Hewitt - Northern Amadeus - 57.500 
29. Kate Billings - Gracefield Fabian - 56.750 
Intermediaire I Kur to Music - CDN
1 Tor Van den Berge- Fisherman's Friend - 69.900
2 Tor Van den Berge - Florett - 69.550
3 Alycia Targa - Neversfelde Kudu - 66.700
4 Rozzie Ryan - Jive Magic - 66.050
5 Ros Tippert - Broadstone Dramatik - 65.600
6 Nicholas Fyffe - Ferrero Rocher - 65.550
7 Daniella Dierks - Concordance - 65.000
8 Claire Seidl - Rolex - 64.250
9 Hayley Gilbert - Odiana K - 63.900
10 Kaz Roe - For Joy - 63.500
11 Caroline Wagner - WS Nevada - 62.650
12 Nina Boyd - Belcam Aarchon - 62.300
13 Susan Elekessy - Versailles - 60.700
14 Meaghan Willis - Roxbury Armistice - 59.700
15 Kate Wilson - La Viva - 59.150
Intermediaire II
1. Rachael Sanna - Jaybee Alabaster - 67.512
2. Heath Ryan - Regardez Moi - 64.049
3. Kate Taylor-Wheat - Oscar B - 63.220
4. Paula Price - APH True Seville - 62.976
5. Kerry Mack - Whisper IV - 62.732
6. Heath Ryan - Byalee Magic - 61.268
7. Kerry Mack - Mayfield Pzazz - 61.122
8. Nadia Coghlan - Northern Campion - 60.293
9. Verity Spargo - APH Faust - 59.366
10. Robyn Targa - Northern Rinaldo - 59.317
11. Susan Elekessy - Versailles - 59.220
12. Denise Rogan - APH Romarn - 58.634
13. Adam Vellere - Moscow - 58.390
14. Janice Usherwood - Northern Atlas - 58.390
15. Warwick McLean - Chiaretto - 57.171 
Grand Prix
1. Mary Hanna - Tango V - 66.667
2. Heath Ryan - Regardez Moi - 66.167
3. Kate Taylor-Wheat - Oscar B - 65.708
4. Rachael Sanna - Jaybee Alabaster - 64.042
5. Sue Hearn - Duntroon - 63.917
6. Rozzie Ryan - DP Christopher - 62.333
7. Blas Lago - Northern Hector - 61.208
8. Amelia Kristan - Jahnus - 60.000
9. Nicole Magoffin - Jaybee Anzac - 59.292
10. Denise Rogan - APH Romarn - 59.167
11. Janice Usherwood - Northern Atlas - 58.833
12. Nadia Coghlan - Northern Campion -58.708
13. Kerry Mack - Whisper IV - 58.208
14. Dimity Lourey - Hollybrook Boston - 57.000
15. Kerry Mack - Mayfield Pzazz - 55.875
16. Warwick McLean - Chiaretto - 54.875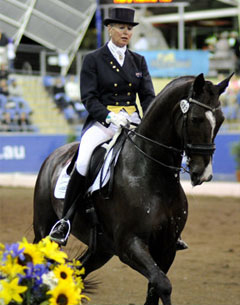 The Horseland 2008 EFA Dressage Championships is under way with some impressive results and surprises. Mary Hanna on her Grand Prix newcomer Tango V, took a narrow lead from Heath Ryan on Regardez Moi, Kate Taylor Wheat on Oscar B and Rachael Sanna on Jaybee Alabaster to win the Hamilton Island Grand Prix CDI-W.  The Bates Grand Prix Freestyle will be the decider for the overall CDI-W winner and the closeness of the Grand Prix results promises an exciting Saturday evening.
Foreign Judge Cara Whitham (CAN) FEI O level Judge commented at the at the completion of the class,  "I had Heath placed first. He rode bravely, his extendeds were good his piaffe and passage were good.  His changes were a weak point.  It was a beautifully presented and a bravely presented test. "Tango is a super talent, very willing but with a few rough edges.  He is a real talent for the future, a lovely horse. Oscar B really impressed me, he was beautiful. He needs to be better balanced in his piaffe and more clearly diagonal.  When he came into the arena he was such a nice picture I felt at ease!"
Photo courtesy: Franz Venhaus
Grand Prix Special
1 Rachael Sanna - Jaybee Alabaster - 68.240
2 Heath Ryan - Byalee Magic - 62.920
3 Paula Price - APH True Seville - 62.200
4 Verity Spargo - APH Faust - 60.040
5 Kerry Mack - Whisper IV - 57.360
6 Dimity Lourey - Hollybrook Boston - 57.160
Grand Prix Kur to Music - CDI-W
1. Heath Ryan - Regardez Moi - 71.550%
2 Rachael Sanna - Jaybee Alabaster - 71.450%
3 Rozzie Ryan - DP Christopher - 66.250%
4 Mary Hanna - Tango V - 65.100%
5 Kate Taylor-Wheat - Oscar B - 64.100%
6 Sue Hearn - Duntroon - 64.000%
7 Blas Lago - Northern Hector - 63.000%
8 Nicole Magoffin - Jaybee Anzac62.100%
9 Janice usherwood - Northern Atlas - 61.300%
10 Denise Rogan - APH Romarn - 61.250%
11 Nadia Coghlan - Northern Campion - 60.750%
12 Amelia Kristan - Jahnus - 58.750%
Dimity Lourey - Hollybrook Boston - ELI
Heath Ryan riding Regardez Moi won the Bates Grand Prix Freestyle (71.550%) with Jaybee Alabaster and Rachael Sanna a very close second (71.450%) point one of one 1%.Cara Whitham, O level Judge from Canada and head of the Ground Jury for the CDI-W, made the following comments after the Bates Grand Prix Freestyle. "A good strong competition especially the top three horses. The decision in the freestyle was very close between Jaybee Alabaster and Regardez Moi with the strength of the piaffe, passage and pirouettes favouring  Regardez Moi. Horses that I see for the future is Jaybee Alabaster (Rachael Sanna) and Oscar B (Kate Taylor Wheat) and Tango V (Mary Hanna). Australia has some outstanding young horses which bodes well for 2012. As usual the show was very well run with an excellent turn out of spectators and a full house for the Freestyle on Saturday evening".