2008 Equine Elite Auction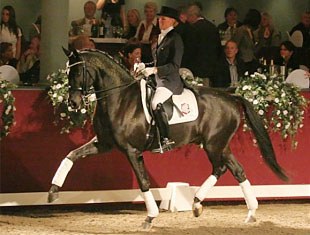 The Equine Elite Auction is always one big party and this year it was no different. Besides the sale of top quality dressage horses, Equine Elite offers VIP entertainment and a big show. Held at Stable Korenbloem in Weert, The Netherlands, the 2008 Equine Elite Auction auctioned forty-four horses and this year the price highlight was Versace, a 6-year old Sandro Hit x Ulft offspring with a strong trot and canter. The black gelding sold for 315,000 euro.
The second highest knockdown price was 160,000 euro. A British dressage rider paid this amount of money for Wednesday, a bay mare by Future x Havidoff. The licensed Dutch warmblood stallion Amoor (by OOSeven x Jazz) sold for 110,000 euro and was the third most expensive horse of the collection.
"What a night! Our thanks to all of you who made this incredible night possible," Craig Rawlins and Diederik Wigmans said. "A very special thanks to all  who slaved away in the stables and made it this event possible and to our fantastic riders!".
The average price for a horse at the 2008 Equine Elite auction was 47,750 euro.
Related Links
Wittinger, Price Highlight of the 2007 Equine Elite Auction
Willow Price Highlight at Spectacular 2006 Equine Elite Auction
Top Prices at First Equine Elite Auction