2009 British Shearwater Young Horse Championships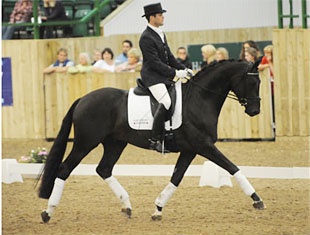 Romano Ruinart, Zolansky and Royal Concert were the grand champions of the 2009 British Shearwater Young Horse Championships held in Hartpury, England, on July 17-19, 2009, coincidingly with the international CDI event.
Tim Sillevis and Romano Ruinart were the four-year-old Champions, winning on a score of 84%. Ruinart is a British Warmblood graded premium stallion by Rohdiamant out of a state premium mare. He is owned by Clayton and Julie Down and was bought from the Romano stud as a foal.
"We bought him based purely on his bloodlines," explains Clayton, "And he was good looking! Also we had bought from the stud before so knew what we were getting. We wanted a dressage breeding stallion." Ruinart will stand at stud next year.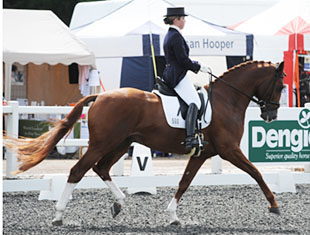 Gemma Green and Zolansky became the British five-year-old Champions with an impressive score of 89.80%. Zolansky is a Dutch warmblood stallion by Polansky x Jet Set D, owned by Gemma's mother Jennifer. He was reserve four-year-old Champion at last year's National Young Horse Championships at Stoneleigh. He was bought as a two-year-old in Holland.
"When he was two, what impressed us was how balanced and sane-looking he was," remembers Gemma, "He's a real gentleman, and though it's nice to do well in the young horse classes you are really looking for Grand Prix potential and it's a long, long way to that, but he is showing in his training that he has the potential."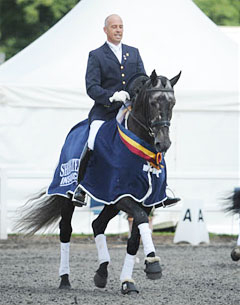 Royal Concert, ridden by Peter Storr was the six-year-old Champion, the pair scored 88.4%, beating Charlotte Dujardin and Winston Bond by less than one per cent. Royal Concert, owned by Hermione Black with Peter and Penny Pollard is by Royal Diamond x Continue. He was acquired at the Oldenburg auction in Vechta in Germany for 172,000 euro. In 2008 he was five-year-old Young Horse and Overall Champion and Shearwater five-year-old Champion at Stoneleigh.
"He's turning out to be a lovely horse to ride in the competition arena," said Peter, "He's a hot horse but he doesn't boil up, he has great adjustability in his paces and great balance."
The top two ranked horses of each age division were invited for the special Shearwater Young Dressage Horse Supreme Championship, which was won by the runner up of the 6-year old division, Winston Bond. This six-year-old gelding by OOSeven x Metall is owned by Charlotte's boss Carl Hester and Claire Crocker, and had come second in his qualifying round which was held in the outside arena earlier in the day, so it was a bit of a surprise when he beat Peter Storr and Royal Concert to take the Championship indoors in the evening.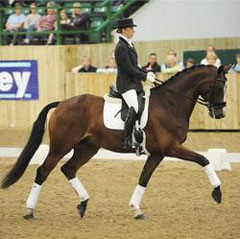 "I was in shock!" said Charlotte afterwards, "It was a massive surprise when they came walking towards me with the rug and the sash. I was really pleased with him because he's never been in that kind of situation or an environment like that before and he handled it really well."
Christophe Hess was the judge for the six-year-old class in the morning and for the overall supreme championship in the evening and he explained why Royal Concert was beaten by Winston Bond in the end: "Peter was the favourite for the night, but it was a different atmosphere inside in the evening and the horse was a bit tense, he tried three or four times to show lengthening and it just didn't work. As for Winston Bond – this horse has a perfect canter and a very good trot, that's why he came first."
Text and Photos courtesy: British Dressage
Results
4-year old Championship
1. Tim Sillevis - Romano Ruinart - 84.00
2. Matt Frost - Don Rosso - 83.80
3. Sarah Higgins - Wolkenderry - 78.40
4. Katie Bailey - Accent II - 77.60
5. Jacky Stolper - Luciano Pavarotti - 77.20
6. Henriette Andersen - Rodrigo - 76.40
7. Tim Sillevis - GF Deville - 76.20
8. Alicia Laughton - Latona - 75.20
9. Alice Peternell - Supreme - 74.60
10. Alice Peternell - Apollo - 74.20
11. Lisa Marriott - Paris - 73.40
12. Roland Tong - Ambience IV - 71.40
13. Lizzie Murray - Burlyns Bold As Brass - 71.00
14. Jennifer Johnston - Donnergrollen - 70.60
15. Antonia Brown - Remember Me - 70.00
15. Sarah Bosomworth - QD Esquire- 70.00
15. Justine Sole - Don Lumiere - 70.00
18. Mark Johnston - Amazon Man HFD - 69.80
19. Mark Ruddock - Breighton - 69.60
20. Emma Jane Taylor - Amarillo UDL - 69.40
21. Clair Gordon - Wardance - 68.40
22. Charlie Bosanquet - Astrid II - 66.80
22. Craig Millard - Cendy II - 66.80
22. Rebecca Marsen - Woodcroft Dancing Queen - 66.80
25. Arno Klees - Hanny Mohn - 65.00
Jane Green - Fantango - WD
Carsten Sandrock - Woodlander Daddy Cool - WD
5-year old Championship
1. Gemma Green - Zolansky - 89.80
2. Jackie Siu - Ziolinco - 81.60
3. Sara Gallop - Summerhouse Zelham - 80.80
4. Pippa Fisher - Kaja Di Valentino - 80.40
5. Carl Hester - Nip Tuck - 80.20
6. Jacky Stolper - Exposito - 79.40
7. Clare Harwood - Alley Kat - 77.00 7.80
7. Jill Grant - Zazzu - 77.00 7.80
9. Jane Green - DanDare - 76.20
10. Michael Bates - Richfield - 75.80 7.90
11. Greg Smith - London Swing II - 75.80 7.50
12. Sarah Kingwells - My P.A. Live Whirlwind - 74.40
13. Jess Bennett - Northcliff Walentine Rose - 73.20
14. Paul Friday - Zanthos - 70.40
15. Jill Grant- Zuka - 70.20
16. Antonia Brown - Your Majesty - 68.60
17. Camilla Brogaard - Zilver Prince - 67.80
18. Lizzie Murray - Catherston Springnut - 67.80
19. Jo Barry - Rameau II - 67.60
20. Amanda Gillman - Half Moon Rosso - 67.20
21. Sally Hargreaves - Rocksport - 64.80
22. Rachel Jones - Pioneer - 63.00
Charlotte Du Jardin - Zidyllic - WD
Helen Lowe - Westhills Anna Lore - WD
Mark Johnston - Puddle of Mud - WD
6-year old Championship
1. Peter Storr - Royal Concert - 88.40
2. Charlotte Du Jardin - Winston Bond - 85.60
3. Jane Green - Valentime - 85.00
4. Charlotte Du Jardin - Duchess IV - 84.00
5. Carl Hester - Chagall - 83.80
6. Alice Oppenheimer - Headmore Delegate - 83.40
7. Anona Young - Simply Clever - 80.80
8. Lucy Cartwright - Waterloo V - 78.60
9. Jackie Siu - Ferrera - 77.40
10. Camilla James - Riva Dance - 77.20
11. Hannah Esberger - Shepherd Welkom - 75.80
12. Lucy Warren - WS Legolas - 75.40
12. Roger Gregory - Comanche Wodan - 75.40
14. Sam Rahmatalla - Don Proviano - 75.00
14. Henrietta Cheetham - Tennessee - 75.00
16. Lisa Garland - Miss World - 74.20
17. Sara Hardacre - DHI Whatever - 73.80
18. Alice Peternell - Watley - 73.40
19. Emma Thomas - Walking Tall - 71.20
20. Justine Sole - Koning - 71.00
21. Denise Hallion - Wervelwind - 70.00
22. Harry Payne - Divine Inspiration - 69.20
23. Jody Haswell - Wolansky - 67.40
24. Anne Marie Perry - Show Boy - 67.00
25. Laura Ferrier - Waterloo - 65.00
26. Douglas Jones - Romanic Ranger - 64.80
27. Catherine Eardley - N.H.Prima Donna - 63.60
28. Arno Klees - Warlorde - 61.40
Related Links
Scores and Photos of the 2008 British Young Horse Championship
2007 British Dressage Young Horse & Breeding Championships
Scores 2006 British Young Horse Championship
Scores 2005 British Young Horse Championship