History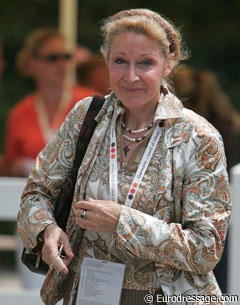 There were and still are some dressage riders who are able to compete successfully for decades, but there are only a few who are also successful as breeder, trainer and ambassador for the art of classical riding.
Such a rare "jack of all trades" is the legendary Swiss Christine Stückelberger who cannot be mentioned without her trainer Georg Wahl- a couple that has been training together for nearly 50 years.
They first met in 1960 at "Städtische Reitschule" in Berne, where Mr. Wahl trained pupils after having left the Spanish Riding School in Vienna and having worked some years with famous circus director Fredy Knie senior, known for his non- violent way of training circus horses.
Christine's talent and total dedication to the horses caught his eyes after he gave her a difficult horse to ride on her own, which worked well. Her passion for dressage started with an Irish horse called Merry Boy, an Irish bred thoroughbred bay gelding which was given to Mr. Wahl for training by his owners. He later became Christine's first own horse. With him she moved through the dressage levels in the 1960s and had her first international start in Aachen in 1968.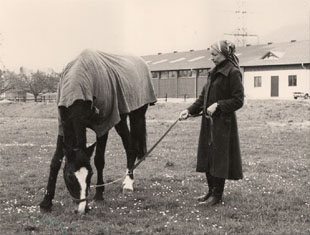 After leaving school Christine worked as a secretary, but her obsession for horses and her admiration for Mr. Wahl's skillful work were so strong she followed him to Vienna, where Wahl started to work again as "Oberbereiter" at the Spanish Riding School.
In 1968 Christine and Merry Boy flew to Mexico City as the Olympic reserve pair. They won their first international medal with team bronze at the European Championships in Aachen 1973 after being placed in the individual top ten between 1969 through 1971.
1969 was the year she first met a horse that would influence her career and her life like none before or later: Granat, a 1965 born bay Holsteiner gelding by Consul (by the famous Cottage Son xx). He was bought at Gut Ising in Bavaria.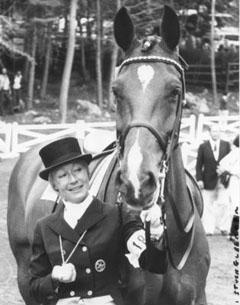 There were no indications first that he would become an outstanding world beater: Granat was heavy like a carriage horse with a big head and an extremely difficult temperament.
He was sold again as he seemed to be a horse more for a man than a tiny woman, but he stayed in training with Wahl, who had left Vienna again to concentrate on training competition riders and horses.
As it clicked with Granat, he learnt the Grand Prix movements within weeks and was re-bought by Stückelberger. Like the ugly duck transforming into a brilliant looking swan Granat changed into a powerful horse, the epitome of what classical dressage training can do with a horse. Nearly 30 years after the end of this horse's career his piaffe -- collected, rhythmical, powerful -- is still unparalleled by any other dressage horse on the international stage.
Granat's career started with the Munich Olympic Games 1972, where Christine preferred to compete him instead of her experienced partner Merry Boy. Still green he finished 15th.
1974 saw the breakthrough of both finishing 5th in the World Championships in Copenhagen and winning at Aachen, the start of Granat's reign. They were the first pair to achieve the triple crown, winning the European Championships 1975 in Kiev, the Olympic Games in Montréal- Bromont in 1976 and the World Championships in 1978 in Goodwood in a row, unbeaten for over four years.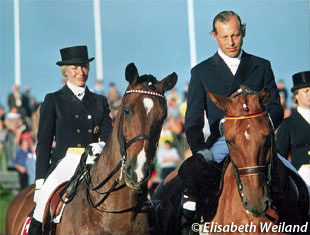 Granat also won the 1977 European Championships in St. Gall and the Alternate Olympic Games in 1980.  He retired on a high note with the reserve world champion's title in Lausanne 1982, aged 17, having made his tiny rider an equestrian super star. He stayed at Christine and Georg Wahl's yard near St. Gallen until his death in 1989, enjoying grazing in the field and being ridden till his last days.
When Granat retired Christine had other international successful Grand Prix mounts such as Achat (Hanoverian), Rubelit von Unkenruf (Oldenburger) with which she finished 3rd in the first World cup Final 1986 or Tansanit (Oldenburger), her 1984 Olympic silver mount, all self- trained with Mr. Wahl's guidance.
It was a small bay stallion that brought her back to the big time. Like Granat nobody first thought he would become one of the world's most successful dressage sires: Gauguin de Lully CH. Although extremely well bred in 1975 by Sweden's famous Chagall (sire of numerous Olympic dressage horses) out of a mare by Gaspari, which also sired the Olympic champion Piaff, Gauguin wasn't that impressive in his young days. He developed over the years through great mastership of Mr. Wahl into a horse of world format, another prime example of the value of classical dressage training.
Gauguin de Lully CH won the 1987 and 1988 World Cup Finals and was 2nd in 1989 behind Corlandus. He excelled at the 1986 World Championships in Toronto, where he came 3rd in the Grand Prix and with the Swiss team and finished as reserve World Champion individually. In 1988 he won team silver and individual bronze at the Seoul Olympics, still the first and only Swiss bred horse to do so.
In 1989 Christine had a nasty fall from one of Gauguin's 3-year old sons in her indoor arena, smashing vertebrae of her back. She had to undergo a 7-hour operation and further surgery with little hope to escape the wheelchair. She recovered though with her typically strong will and determination.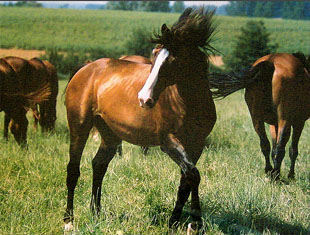 It was Gauguin de Lully she first sat on after her accident at the beginning of 1990, coming back better than ever by winning the Swiss championships and leading the Swiss team to a never expected bronze medal at the 1990 World Equestrian Games in Stockholm by finishing second behind Nicole Uphoff's legendary Rembrandt in the Grand Prix. She placed 5th individually.
Gauguin was retired to stud afterwards, leading a heavenly life running free with mares in wide fields in France. He sadly died there much too early in 1996, due to a ruptured aorta, surrounded by his mares-- a picture nobody will ever forget who saw it.
Gauguin will always be remembered for his outstanding work ethic, his friendly character and he still lives on in his offspring such as Goofy de Lully (2009 German champion with Hartwig Burfeind), Greco de Lully (Grand Prix and breeding stallion) or the late Mr G de Lully (British Grand Prix team horse).
After Gauguin de Lully CH Christine was struggling a bit to maintain her position in international dressage, although she was placed 11th in the 1993 European Championships with the black Oldenburg stallion Diamond (aka Weizenkorn, by Welt As x Vollkorn xx, *1983). The last international caliber horse she found was the approved Westfalian chestnut stallion Aquamarin (by Pakt x Benedikt, * 1985), whom she discovered during a clinic in Canada in the mid 1990s.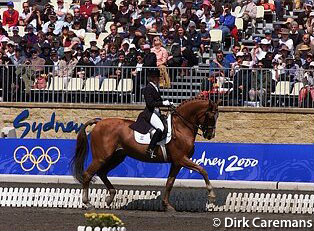 An impressive horse standing over 170 cm Aquamarin, affectionately called "Willi" in the stable, turned out to be a difficult horse to re-train. Mr. Wahl taught him to settle in the piaffe and to move in a more collected way, even though he sometimes found it hard to keep the rhythm in the piaffe. This proves the importance of training horses in Mr. Wahl's classical quiet way at a young age and shows the difficulty of changing a trained horse. Who knows what Aquamarin, a super talented horse judged by his pure ability, could have done if he were trained by Wahl from the beginning. Aquamarin and Stuckelberger competed at two Olympic Games, the WEG 1998 and two European Championships (1997 and 1999). He peaked in 1999, when he saved the Swiss by finishing 8th individually at the European Championships at Arnheim and by himself helped the Swiss team to qualify for the Sydney Olympics.
Sydney was the final show for Aquamarin, because Christine decided to retire from international competition after a career that spanned over 30 years. He was sold as a breeding stallion to the famous Sprehe Stud, but had to be put down shortly after.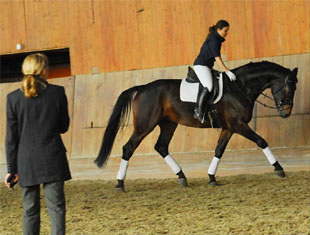 Since 2000 Christine is concentrating on breeding, teaching and is frequently engaged in different activities for classical dressage. She is one of the founding members of "Xenophon Classical Riding", an organisation through which different riders, trainers, journalists, vets and judges such as Klaus and Judith Balkenhol, Dr. Gerd Heuschmann, Hans- Heinrich Isenbart, Hans Riegler, Bernard Maurel, etc try to fight against mistakes in equestrian sport such as hyperflexion (rollkur), wrong judging and cruel training methods or preparation of sport horses. Their aim is to promote a return to fundamental principles of classical equestrianism by giving seminars and demonstrations all over Europe with famous instructors.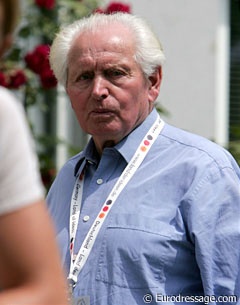 Christine, who loves all kind of animals and treats them all with much respect, invests a lot of time in Xenophon, giving demonstrations of the work Mr. Wahl taught her over the decades. She doesn't stop believing that there can be a return to the classical principles in the sport of dressage and she enthusiastically advocates them over and over again Personalities like Christine Stückelberger, never tired or afraid of open criticism, are rare today, but so much needed in a world where more and more horses are only a product for personal success, which has to move towards Grand Prix quickly and through all methods.
Stückelberger has matured from a successful rider and an equestrian superstar in the 1970s and 1980s to an ambassador for the horse and the sport of dressage today. Moreover she breeds her own dressage horses from famous bloodlines, often with horses she has ridden or competed herself.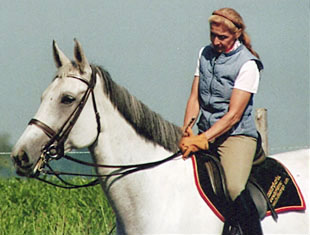 Her first breeding project was with Cameera, a polish bred Trakehner mare, who was her Olympic reserve horse 1976.
A present example of her breeding success is her actual Grand Prix horse Ravenna X, a grey mare by Christine's former Hanoverian stallion Ramiro's Bube (by Ramiro x Pik Bube I, * 1990), now 11 years old and always trained and ridden by Christine. This lovely mare is the living example how beautiful dressage can be,followed by the classical principles: A true happy athlete, relaxed and proud.
Article by Silke Rottermann
Photos copyrighted: Astrid Appels - Elisabeth Weiland - Privat
Related Links
George Wahl Again Clinicing in Belgium
STC Aquamarin Sold to Sprehe Stallion Station