2009 Equine Elite Auction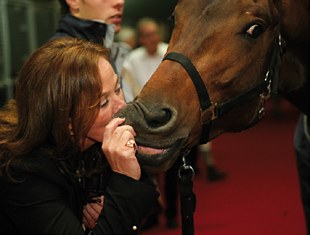 On 24th October 2009 Equine Elite will open its doors once again for the lucky few who are in possession of a ticket for Europe's most exclusive and secretive auction. The selection of horses is now complete, the vettings have been conducted and the horses that passed through the different stages of the selection are now stabled in Weert. They are available for the trial rides which started already on the 1st September and which will continue up until the auction itself.
One of the 9 selectors, Laurens van Lieren said: " The collection of horses is without a doubt the best we have had. The market was relatively quiet at the beginning of this year which caused a backlog of quality and a lot of people had reserved their horses for Equine Elite 2009 anyway, the result was that we were inundated at the selections and spoilt for choice. It was great to see so many high quality dressage horses in one place, Fantastic!"
The 2009 collection was selected by 9 judges – Dutch "A" riders Laurens van Lieren and Jeanette Haazen, "O" Judge Frances Verbeek, Dutch team member Imke Bartels, Young rider gold medalist Lotje Schoots, International trainers Chris Haazen and Diederik Wigmans and international dealer Craig Rawlins.
Website: www.equineelite.nl