2009 Global Dressage Forum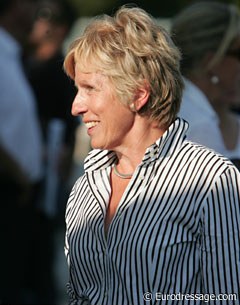 The Global Dressage Forum is set to take place next Monday and Tuesday in Hooge Mierde, The Netherlands. Over 20 countries will be represented by top dressage riders, trainers, judges and journalists. Many recent developments in the dressage world will be discussed, and – as usual- a lot of practical and scientific knowledge will be explained.
'Degree of difficulty in freestyle test' by Katrina Wüst
During the Judging System Trials in Aachen, organised by the Dressage Task Force, a closed session took place in which O-judge Katrina Wüst gave a very detailed presentation on how to quantify the degree of difficulty in the freestyle to music based on a newly invented 'bonus-malus' system. She will explain her system once more at the occasion of the Global Dressage Forum. On an artistic level, the choreography and music can be quantified by establishing a catalogue of movements which can earn bonus points depending on their difficulty. A rider would have to indicate the degree of difficulty of his freestyle beforehand and the judges will score this using the catalogue." The new freestyle scoring system is an attempt to reduce partially the subjectivity of the judging. "Riders will know what they can do to get good points," Wüst ads.
'Diagnosis of injury in dressage horses' by Rachel Murray
Resistance or slight loss of performance can be due to the rider, the training, physical limitations of the horse or pain. To give a dressage horse the best chance of performing well, early diagnosis of injury is essential to avoid damage becoming irreversible, either mentally or physically. Considerable advances in technology, such as use of MRI and advanced diagnostic imaging, mean that we can now see and detect injury in parts of the horse that we did not previously understand, and has given huge improvements in knowledge for detection, prevention and management of injuries in the dressage horse. Dr. Murray from Newmarket, Great Britain will comment the latest developments.
'The role of the specialised farrier in top dressage' by Rob Renirie
Rob Renirie is one of the most experienced Master-farriers in the dressage world. He was involved in many Olympic Games as the official team farrier of the Netherlands, and is the home farrier of several top riders in different disciplines. Renirie is also involved in education and research. Recently more emphasis is given to specialised hoof treatment for the dressage horse. What are the most recent developments? And what should the rider, trainer and owner know about the subject?
Be part of the most exciting forum of the year!! Buy your last minute ticket for the GDF at www.globaldressageforum.com
Back to the 2009 Global Dressage Forum index