Greatest Oldies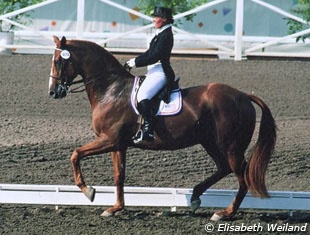 Looking into the history books of dressage one can suppose at first glance that the USA had always been involved with this most refined of equestrian disciplines. In 1932 the US won team and individual bronze at the Olympics in Los Angeles
, but one must see that it was in a very reduced field of only three teams because many European countries couldn't afford the long journey by ship. Sixteen years later the USA won a team silver meda lin a field of 5 teams after the victorious Swedish team was disqualified Best of their team was Robert Borg, who finished fourth on Klingsor, a former horse of the German Cavalry School at Hannover.
But for the next 28 years the United States were more or less only participants in the Olympic Games relying on single riders and their horses, often bought in Europe. In the 1960s there were about a handful of them able to perform at Grand Prix level and the most outstanding of them was an impressive huge Irish bred thoroughbred gelding called Rath Patrick xx, ridden by Patricia Galvin, who won at Aachen and placed 6th in the 1960 Olympic Games, 8th in Tokyo in 1964 and won the Pan American Games twice (1959 & 1963).
Though Rath Patrick xx showed encouring results as a thoroughbred, dressage was still the least favourite discipline in the USA. Similarly at the same time in Great Britain show jumping and eventing were much more popular also due to their consistent success.
As the country is big and trainers in dressage were rare it was very hard for young and interested riders to take up dressage and improve, especially if they hadn't the possibility to buy a ready-made dressage horse in Europe.
One of these riders was Californian Hilda Gurney. The story of her first horse Keen xx is remarkable in many aspects and it sounds like a fairytale by the Brothers Grimm: Becoming the American pioneer against all odds and enormously  helping American dressage to establish and grow. The tremendous development that dressage in the USA has made over the past 35 years would have been unthinkable without Keen xx. Reason enough to remember an outstanding horse.
Keen xx was far from being bred for dressage. He was foaled on a Californian thoroughbred farm in Riverside, CA, in 1966 to become a racehorse. By Moneybroker xx out of the mare Mable Victory xx (by Victory Tower x)x the chestnut gelding with the characteristic white blaze kept on growing. With 17,2 hh Keen xx reached a height rarely seen for his breed and it proved to be a big disadvantage for a career on the racetrack. He was just too big to fit in the startbox. He was never raced, but offered for sale.
Three years after Keen's birth Hilda Gurney, a then 26-year old school teacher from Los Angeles, was looking for a horse and took a look at the huge and for his breed quite heavy boned thoroughbred. She immediately loved his great presence and bought him for the moderate price of 1000 US Dollars.
It soon became obvious that he was a natural born dressage horse. Keen xx had very good paces and was also a horse, which liked to please his rider, though as a thoroughbred he tended to be hot. "He was unbelieveably hot at the beginning and only wanted either to leap or to do passage," Hilda reminisced. The passage, which became one of many strong points of the chestnut, was easily learned. It was harder with the piaffe, which Keen xx later did to perfection. One shouldn't forget that Hilda was then an amateur rider and it was hard to get regular help.
Although Hilda did much on her own there was enormous support and inspiration from a trainer who helped her very much to develop Keen xx's outstanding potential. It was former Swedish Cavalry Officer Bengt Ljungquist, a 1964 Olympic dressage competitor, who trained at the "American Dressage Institute" in New York, a kind of predecessor of the USDF. Every summer Hilda trailered her uniquely talented horse from the west to the east coast to get the needed training.
The first success came in 1974 when Keen xx at the age of 8 became the USDF Horse of the Year the first of five times. A year later he participated in the 1975 Pan American Games in Mexico and won the individual silver medal behind the established and experienced Canadian rider Christilot Boylan. Keen xx had strongly contributed to the team gold medal. For the first time the international scene took serious notice of the talented thoroughbred, though many Europeans thought he was a Trakehner or a light warmblood.
Hilda's name was by then unknown to most Europeans and Keen wasn't considered among the best before the 1976 Olympic Games in Montréal, which took place in Bromont for the riders. The US Federation sent Keen xx along with Dorothy Morkis' grey Hanoverian Monaco and Edith Master's Dahlwitz, also a Hanoverian gelding. Unlike Keen xx his Olympic companions were not unknown to the European scene, both born and raised in Germany. And also unlike Keen xx both were definitely bred for this sport: Monaco was a Marcio xx- grandson and Dahlwitz was by the Trakehner Impuls out of the famous Doublette by Duellant, a mare which was one of the best dressage horses in Germany in the 1960s under Rosemarie Springer and Willi Schultheis.
In Bromont the US team was not considered to have medal chances. These would most likely be distributed between the traditional dressage nations Germany, Switzerland and the Soviet Union. Dahlwitz finished 14th and Monaco 7th surprisingly, but Keen xx impressed all. Not really established on the international scene, Keen put down a brilliant and most outstanding performance in the Grand Prix which was honored by the five judges.
Although sometimes tending to be a little bit over the bit during his ride, Keen xx had such an impressive dynamic in all movements and according to Christine Stückelberger, he was "a pure pleasure to watch."
His well built and angled hindlegs enabled him to really sit in the piaffe. The passage and all the extensions showed his strength  and his wonderful natural paces. Keen xx's historic ride was awarded with a never dreamt of 4th place and this helped enormously to realize a dream for the US team: They won the Olympic team bronze medal with more than 100 points ahead of the Soviet Union and less than 40 points behind Switzerland, which could profit from Christine Stückelberger's outstanding result. Hilda said this 4th place was the most meaningful result to her in Keen xx's whole career.
Suddenly dressage in the US became public, especially after the jumping team wasn't able to win a medal. The ladies' team had proven that nothing was impossible, even in dressage and that US riders could be competitive at the highest level. It didn't matter that much that Keen xx couldn't completely repeat the great brilliance of the Grand Prix as he finished 10th in the individual final. During those days in Bromont he had put his name on the map of dressage and maybe even more importantly also that of his country.
In 1977 Keen xx continued his success in his home country as he had no serious rivals there and became USDF Horse of the Year for the third time. Of course he was the anchor of the same heroic US dressage team of Bromont that flew over to Europe for the 1978 World Championships in Goodwood, England. The combination attended the famous CDIO Aachen shortly before the Championships and Keen xx again was able to place high in the rankings between all these European warmbloods, coming 4th in the Grand Prix Spécial. Two years after his meteoric appearance on the international scene the big framed thoroughbred once again showed that he was part of the cream of dressage horses.
In Goodwood Keen xx once more was the strongest member of his team, but this time he was only one place ahead of Monaco, coming 10th in the Grand Prix. After their Bromont "disaster" the Soviet Union was able to beat the USA by 35 points this time, leaving the USA in the 4th place. In the Grand Prix Spécial the program worked in Keen xx's favour as it contained more piaffe and passage work and Keen xx tried hard to make no mistakes. He was outstanding in his trot work and did one of the best piaffe and passage seen at the championships. Many experts as well as the audience were ecstatic about his presence and the way he moved. He finished 7th place overall, beaten by only 15 points by a horse different to his type: The Russian Arab-thoroughbred cross Said. One judge even saw Keen xx in 4th place, an opinion he might have shared with many in the audience.
Hilda in the meanwhile had given up her job as a school teacher for handicapped pupils and  established her own stable in California to completely concentrate on riding and teaching. Her horse was undoubtedly the hot favourite for his second Pan American Games in 1979 and he fullfilled the high expectations by winning two gold medals there – his reign on the North American continent continued throughout the year to win his 4th USDF Horse of the Year title.
Keen xx formed a strong bond with his trusted rider and he is described as a very sweet horse easy to handle. "He was very people orientated and special about him was that he never let an eye of me," Hilda recalls.
Then Keen xx was struck by tragedy and his career, which should have led him to his second Olympics in 1980, wasn't only in serious danger but seemed over forever. 
He severely injured his neck. The only thing that remained was to turn this great horse out in the pasture. Riding or even competing seemed a thing of the past. It was a hard time for Hilda, but also for her lively horse, which loved to go out and compete and which had been very used to this kind of live.
Miracles sometimes happen and luckily they did in Keen xx's case. After three long years out of action he recovered at the progressed age of 17. He could be ridden, even seriously trained again and returned to the life he had appreciated so much before.
Eight years after Keen caused a boom in dressage in the country where he was born by winning an Olympic team bronze medal, the 1984 Olympic Games were to be held on his and his rider's home turf, Los Angeles in California. It was more than a dream come true when Keen xx qualified for the Games at the age of 18 after being out for years. He had placed 2nd in the North American Championships and had won the West Coast Olympic Selection Trials . The USA had a good team with its old star back as well as the international Holsteiner gelding Marco Polo with Sandy Pflueger-Clarke and the young Robert Dover with the Rhineland bred Romantico.
The results in Los Angeles may have been a bit disappointing. The team came 6th. Keen xx like always had the strongest result, which put him in 14th place individually. It was still not good enough to qualify for the individual competition, which was a pity also for the huge crowds in the Santa Anita stadium, many of them enthusiastic fans of their home-pair.
Keen xx had shown a good and satisfying ride, but of course it was compared to his outstanding performances years before and he couldn't stand this unjust comparison.
Hilda decided to continue competing her lifely Keen xx after the Olympics. Her faithful horse for which she had refused large sums after the 1976 Olympics loved to compete so much that every time he was left behind at home he reacted very sadly. So in 1985 Keen xx won the USET National Championships again, aged 19 and he was ranked amongst the 20 best dressage horses worldwide, according to the 1985 world ranking list. Moreover he gave dressage demonstrations and made many new friends for dressage that way.
Keen xx actually never fully retired. After Hilda stopped competing him on the highest level the very talented young rider Kathleen Raine was allowed to ride him in the Young Riders division. She did that until shortly before the wonderful gelding's unexpected death.
Raine continued to walk in Gurney's footsteps by winning a team bronze medal at the WEG in 1994 and placing highly at the 1995 World Cup final on the Dutch bred Avontuur.
Keen xx's life ended in August 1989 at the age of 23. He suffered a severe stroke and very sadly had to be put down. Hilda lost her friend of over 20 years and the USA its greatest ambassador for dressage it has ever bred and had.
His rider admits she was looking for a second Keen xx and even bred with his sister, but with no luck. Hilda had other very good horses like the grey mare Lavinia or the remarkable Hanoverian Willy the Great who just missed out on competing at the 1992 Olympics, but Keen xx remained her once in a lifetime horse.
Hilda cannot pinpoint a certain experience with Keen xx as the most extraordinary one: "Everything with him was extraordinary. Can you imagine a thoroughbred going to the Olympics twice with a school teacher?"
Keen xx's influence on the development of U.S. Dressage cannot be rated highly enough. Like Dutch Courage in Great Britain Keen xx made people pay attention to dressage and encourage young riders to take up the discipline. The number of competitors at dressage shows increased as well as the membership with the USDF, which honored Keen xx by inducting him in their "Hall of Fame" in 1997.
The remarkable success US dressage riders had in the past 17 years had their starting point in this unfortgetable thoroughbred which was so keen on dressage.
Article by Silke Rottermann
The author likes to thank Mrs. Hilda Gurney very much for her kind help in writing this article.
Photo courtesy: Elisabeth Weiland - Mary Phelps
To find out mare about Keen's 1976 Olympic performance, read 
Deutsche Reiterliche Vereinigung (publisher), Olympia der Reiter 1976, München 1976.
(in German, out of print, available second hand) 
Related Links 
Greatest Oldies: Dutch Courage, a Pioneer for British Dressage
Greatest Oldies: Dutch Gold, Like Father Like Son

Greatest Oldies: Dr. Reiner Klimke's Ahlerich

Greatest Oldies: Nicole Uphoff's Rembrandt: A Living Work of Art
Greatest Oldies: Absent, An Akhal Teke on the Olympic Stage
Greatest Oldies: Pepel, A True Legend of Russian Dressage 
Greatest Oldies: Dynasty, A Horse Who Lived Up to His Name 
Greatest Oldies: Marzog, King of Suppleness