Danish Dressage News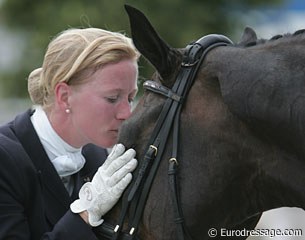 The Danish royal court announced the joyous news that Princess Nathalie Zu Saeyn-Wittgenstein-Berleburg has become engaged to her partner Alexander Johannsmann. Nathalie's parents Her Royal Highness Princess Benedikte and His Highness Prince Richard of Saeyn-Wittgenstein-Berleburg had the pleasure to announce the news.
Princess Nathalie is the youngest daughter of HRH Princess Benedikte and HH Prince Richard. She lives at the Berleburg castle in Germany and competes the dressage horses which are bred by her mother, including Digby, Rigoletto and Master Mind.
Nathalie won the team bronze medal at the 2008 Olympic Games in Hong Kong and was the Danish Dressage Champion in 2002 and 2009.
Alexander Johannsmann is a 32-year old German national from the town of Gütersloh, near Bielefeld. His family runs a major horse transport business and his father was internationally successful show jumping rider.
Both Nathalie and Alexander have just departed on holiday to Australia, where Nathalie will be conducting some clinics. They will return to Germany later this month.
Photos © Astrid Appels
Related Links
Nathalie Zu Saeyn-Wittgenstein Claims Second National Grand Prix Title 
Royal Victory for Nathalie Zu Saeyn-Wittgenstein in Aachen CDI Grand Prix 
Official news release by the Danish Royal Court on the engagement (in Danish)