KWPN Breeding News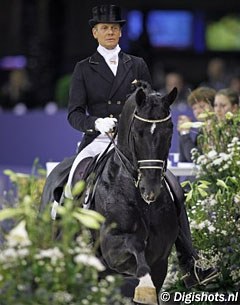 Kees and Tosca Visser, the owners of 2009 European Dressage Champion Moorlands Totilas, have changed their mind and will be standing Totilas at stud as of 2010.
Initially Visser said that Totilas would be exclusively focused on dressage at least until the 2012 Olympic Games in London, but not any more.
"We don't want to abstain breeders from not using Totilas' genes, so we decided to put him up for stud," Moorland agent Semira Norman told Eurodressage. "We've been contacted by so many breeders and have decided to comply to their wishes."
Totilas will only be available by frozen semen and to a limited amount of mares. Totilas' semen is currently being analysed at the Universitary Clinic in Utrecht. Depending on the quality of the semen the number of mares will be decided on.
At the moment the plan is to distribute Totilas' semen via three stallion stations in The Netherlands. Mare owners who want to breed to Totilas will be assessed as only high quality mares will be selected to be bred to Totilas.
Semira Norma, agent for Moorland Stables, told Eurodressage that "those interested in breeding to Totilas will have to fill out a form to show their intent. Each form will be carefully analyses and will be handled on a first come, first serve basis."
Visser has also decided to ask an abnormally high stud fee for a warmblood stallion in order to limit the amount of mares. Norman confirmed to Eurodressage that the planned stud fee will be between 5000 and 5500 euro.
Photo © Leanjo de Koster for www.caremans.be
Related Links
Totilas Not Sold to Sissy Max-Theurer 
Gal and Totilas, 2009 Dutch Indoor Grand Prix Champions