What's Happening in the Dressage World?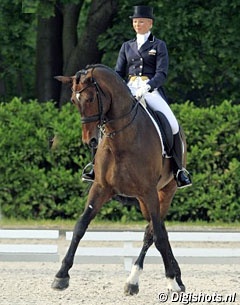 American Grand Prix rider Katherine Bateson has made her show debut aboard Jeannette Haazen's former top ride Nartan (by Jazz x Le Faquin).
At a national Dutch show in Roosendaal, the combination scored 69,25% in the Grand Prix. Bateson's sponsor Jane Clarke acquired Nartan at the beginning of May as U.S. team WEG hopeful. Bateson has been staying in Belgium to train with Haazen for almost two months now. The combination will now try to obtain qualification scores to be invited to the U.S. WEG Selection Trials in Gladstone, NJ, in July. Bateson and Nartan are scheduled to compete at the CDI Vidauban in France  (18-20 June) and CDI Fritzens in Austria (25-27 June) the upcoming weeks.
Photo © Leanjo de Koster for www.caremans.be
Talk about genetic engineering. Dutch magazine De Hoefslag reported that a clone of Poetin (by Sandro Hit x Brentano II) has been bred to Totilas. To be more precise: French Haras de Hus had World Champion Poetin cloned three years ago right before her death and the filly is called Poetin Z. She was inseminated with Totilas and her embryos have been flushed and transferred into a surrogate mare. For some reason the movie Gattaca now comes to my mind with its Eugenetics: genetically piecing together perfect babies. 
Horses.nl reported that the KWPN licensed stallion Polansky has been sold to Dutch junior rider Maaike Hofman. The Kostolany x Donnerhall offspring was previously ridden by Gerdine Maree, Arjen Teeuwissen and Leida Collins-Strijk. The later commissioned the sale of the stallion to the Hofman family. 
Carolyn de Roo-Kooiman, owner of the Dutch President Stables, acquired 50% of the ownership of the KWPN licensed stallion Citango (by Contango x Jazz) from Marco and Koen Brinkman. The 8-year old stallion will soon make his debut at Prix St Georges level under Laurens van Lieren. 
The child singing star Charlotte Wensing, whose father is a renowned equine lawyer in The Netherlands, has recorded a single called "Moeder Aarde" (Mother Earth) of which the proceeds go to Brooke Hospital for Animals. The more the song is downloaded online, the more donations are made to Brooke Hospital. For only 1,80 euro you make a contribution to a better life for horses and mules in Third World countries! If the song is downloaded more than 300 times, you get the opportunity to win a trip to Egypt! Go to www.zingendnederland.nl
The judges who will be assessing the dressage tests at the World Equestrian Games in Kentucky, will also be sitting in the boxes at the CHIO Rotterdam 16 - 20 June 2010. The Rotterdam show organizers announced that Fouarge (NED), Eisenhardt (GER), Alonso (MEX), Zang (USA) and Seefried (AUS) are listed as official judges at this first official Dutch WEG selection trial. The FEI will also be carrying out a pilot project testing the Judges Supervisory Panel, the half-point system and 7-judge corps.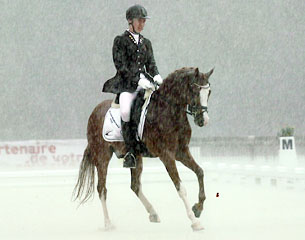 At the 2010 CDI Compiegne Belgian pony rider Geoffrey de Roy faced the toughest weather conditions of all. The entire weekend the show had to deal with extreme heat but during Belgian pony rider De Roy's test, heaven seemed to come down on earth and torrentialrain struck the show premises for about 10 minutes. 15-year old Geoffrey and his 8-year old NRPS pony Ivano (by Idzard) continued to ride his test whereas the judges in their box had to seek shelter at the back. Immediately after his test the sky cleared. De Roy scored 69.083% to finish eighth. 
Tineke Bartels reported on her website that her horse Hunter Douglas Zan Tropez (by Hemmingway) is no longer contending a place on the Dutch team for the 2010 World Young Horse Championships in Verden. Bartels was training rider Pim Candel and Zan Tropez for the Championships but noticed that the bay stallion struggled with the test. "The tests are too much for him and we don't want to force him," Bartels mentioned on her website. "He's a very talented horse which needs time to develop."
Danish junior rider Rikke Lindberg lost her horse (Magic) Rodrigo (by Indorado x Stuyvesant). The dark bay KWPN gelding, who won silver at the World Young Horse Championships and was trained to small tour level by Belgian Arlette Holsters, suffered from a thrombosis and unfortunately passed away on the operation table. Lindberg has been staying in The Netherlands training with Edward Gal and Hans Peter Minderhoud in Harskamp. 
We also heard through the grapevine that the former multiple Dutch Junior/Young Riders' team horse Habibi (Ulft x Onyx) had passed away. The dark bay Dutch warmblood gelding won gold at the 1997 Dutch Junior Riders Championships under Marlies van Baalen. In 1998 the pair won team and individual gold at the European Junior Riders Championships. In 2000 they were Dutch Young Riders Championships. Habibi was then leased to Belgian Young Rider Delphine Meiresonne who campaigned him at the European Young Riders Championships for the Belgian Team. Strangely this medal winning horse not listed on Van Baalen's website in her archive of golden oldies nor has the news of his passing been published. Habibi became 21 years old.
Michigan, the KWPN bred chestnut gelding by Farrington which won the 2005 North American Young Riders Championships under Catherine Malone, has resurfaced again. The now 16-year old is being ridden by Dutch/Italian pony rider Chiara Prijs-Vitale. Michigan started his FEI career with Arjen Teeuwissen and was then sold to Dutch junior/young rider Wendy van der Helm. In 2005 he moved to the U.S.A where he became Malone's mount. After five years in the States, Michigan is back in Holland. Prijs and her new horse are trained by Yessin Rahmouni.