Greatest Oldies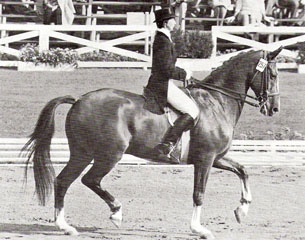 Ulla Håkanson is some kind of a living legend for Swedish dressage having attended six Olympic Games, six World Championships and nine European Championships since the 1970s and in doing so she won several bronze medals. Fewer will know that she once started her international career in the jumping saddle of the same horse which finally made her a dressage legend: Ajax, her most successful partner ever in both disciplines.
In 1961 Ulla's father, a cavalry officer who had trained his daughter from early on, was offered a 4-year old gelding by breeder Sixten Pohl from Röstanga in Sweden. Pohl thought this chestnut would suit an ambitious young lady such as Ulla and the then 24-year old actually liked the horse. "When I tried Ajax the first time he was very fresh and lively, very forward going and did some bucks," said Håkanson. So Ulla's father bought the quite well bred horse for his daughter. Ajax' sire Jovial was an influential Swedish sire with 75% thoroughbred blood, but in 1961 only at the beginning of his illustrious breeding career.
Though the clear aim was to produce a jumping horse Ajax also got specialized dressage training at the same time from Ulla and her husband, who was also a jumping rider. Both considered dressage equally important for a young horse. The young Ajax, who turned out to be a willing horse, was started in both disciplines.
Already in 1964 this horse with honest eyes started in an M-dressage in Sweden und became so successful that only two years later he wasn't allowed to start at this level anymore As Ajax was intended as jumper Ulla quit dressage and started him only in jumping classes. By 1965 Ajax had reached S-level and with promise for much more.
He had once shown his great and undoubted talent for this discipline on a hair-raising occasion at home. Ajax did not like to stand still when his rider mounted him and started cantering when Ulla put her foot in the stirrup and she subsequently fell off. Next to the outdoor arena were military barracks and on his way to the stable Ajax cleared a fence with three rows of barbed wire which had the unbelievable height of 2,50 metres. Still he was lucky to land in a stack of planks and miraculously escaped unscathed. Ulla found him, the secret high jump record holder, on the other side of the fence with only a broken girth: "We were extremely lucky. Without the planks he would never have survived that accident," she reminisced.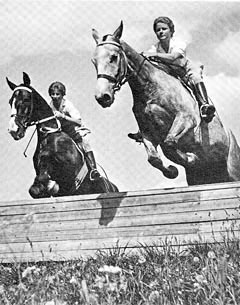 In 1967 Ajax and Ulla were in their second season at S-level in jumping and selected to represent Sweden in the prestigious Nordic Baltic Championships. Ulla was then one of only few women competing internationally in jumping. Her peers were Marion Coakes, Mary Mairs, Kathy Kusner or Annelie Drummond-Hay. Ajax did his owner and Sweden proud when he won the individual title for Sweden after the team had already won the nations' cup. For the first time a woman was victorious in that competition.
Subsequently Ulla and Ajax were allowed to take part in the world famous CHIO Aachen. It first appeared a great chance to compete against the very best. Instead it turned out to be the turning point in Ajax' and especially his rider's career. "In our first competition at Aachen we were unlucky and had to start 30 minutes earlier than planned," said Håkanson. "As a consequence I wasn't able to prepare Ajax properly enough. When we had to go into the stadium he was shocked and overwhelmed and frightened. We were eliminated after three refusals," Ulla recalled their disastrous debut in the Soers. The next day Ajax hadn't recovered and refused again, a depressing end to his first visit to this great equestrian event.
Back home in Sweden Ulla called her vet to check the chestnut's health, but he couldn't find anything wrong with the horse. Obviously Ajax had lost his courage at Aachen and every rider knows how hard it is to give a horse its confidence back. Ulla, who had won a class at the famous Hamburg Jumping Derby on Ajax' full sister Jungfrulin, tried her best. Unfortunately Ajax had been too successful at S- level to be allowed in lower classes again to restore his confidence in the show ring. It soon became clear he wasn't enjoying jumping anymore and was too cautious to be competitive.
Where other riders would have sold the horse Ulla never considered parting with her "very good friend." Instead she decided to change discipline and take up dressage as Ajax already had a good basis to build on. In hindsight the disaster at Aachen had finished her horse's and her own promising jumping career but little did Ulla anticipate that both would come back there and celebrate greater triumphs.
Ajax was eleven when Ulla took up his dressage training. Many Swedes doubted he would ever become a real dressage horse, looking very much a jumper then. Ulla remembered the reactions: " 'Great you want to ride dressage, but then you must buy a dressage horse,' they said. Just nobody believed Ajax would make it to Grand Prix. He didn't look like a dressage horse, but this changed with the change of musculature," Håkansson explained.
The horse proved the skeptics wrong and needed only two years to reach the highest level in dressage. He was already able to do the flying changes, but no one-tempi's, and he could do a bit of piaffe when he stopped jumping. "My husband and I had always taught our jumpers the piaffe as a kind of gymnastic exercise," Ulla explained. Ajax matured into a reliable, good dressage horse. Only his poor walk remained a weakness throughout his career.
In 1970 Ajax started his first Grand Prix season and was immediately able to win the first of five Swedish Champion's titles. The ex-jumper was finally accepted as a dressage horse and was nominated for the Swedish ladies team for the dressage World Championships, ironically held at Aachen. Ulla and Ajax missed a medal with the team, which finished fourth, and they were not able to qualify for the individual final with their 16th place, but it still was a remarkable success for both. "It was just great to come back to Aachen and ride dressage with my jumper. Dr. Jötten from Aachen even remembered us having been there three years earlier," Ulla said.
The World Championships were only the beginning of an amazing international dressage career, which Ajax started at the progressed age of 13. Some may wonder how this was possible, but Ulla listed the reasons: "Ajax was a strong horse and he was well bred. Moreover he had a varied and interesting training all his life." Because Ulla had no indoor school Ajax, like all his successors, was always trained outdoors and enjoyed being hacked out in the forests.
In 1971 Ajax had improved and he contributed strongly winning team bronze medal at the 1971 European Championships at Wolfsburg. He also finished 10th individually. The chestnut with the striking big blaze was a very well ridden horse with several strong points in the piaffe and passage and surprisingly it did not take years to convince the judges of his quality. Ulla and Ajax returned to Aachen in 1971 and were the big revelation in the Grand Prix.
"I was the very last starter and Josef Neckermann was already celebrating his victory with champagne. When I saw this while entering the arena for my ride I became a little bit angry and rode even better. After my ride I left the arena and the points were awarded. Then Dr. Jötten came running and told me I had won! I almost couldn't believe it. Later there was the prize giving in the main stadium and I should ride a program. But Ajax clearly remembered the fright he had there years before jumping. He became very nervous and sweated heavily. But we managed to give a display anyway."
In Sweden people tended not to believe that Ulla and Ajax had beaten the Germans and thought their triumph had been pure luck. Even Ulla is still surprised to this date: "I don't know why, but I had won." Probably because they were the best on that unforgettable day.
Of course the Olympic Games in Munich were a big aim, especially after Ajax wasn't the untalented ex-jumper anymore, but an internationally respected dressage horse with the obvious ability to challenge the best horses in the world. He started very well into the season by placing second four times at the renowned Falsterbo Horse Show in Sweden, before returning to Aachen, where he and Ulla met the best again. The days of the CHIO became triumphant ones for Ajax, starting five times he came first twice, second twice and fifth once. More importantly he was able to defend his Grand Prix title from the previous year, though Ulla regretted one fact: "It is a pity that it was the year they started to call the Spécial  "Großer Preis" and so Ajax name isn't signed in at the memorial wall of fame at the grand stand."
Fourteen days before the Olympics started the Swedish horses traveled to Germany by lorry. Amongst them was the dark bay eventer Sarajewo, Ajax' half brother also by Jovial. Both were going to make their sire"s name famous world wide in the upcoming Olympics.
The Swedish dressage team was the same like the two years before with three ladies and three chestnuts: Ninna Swaab riding her 17-year old Swedish bred Casanova (by Utter) and Maud von Rosen, whose uncle Clarence had reintroduced the equestrian disciplines to the Olympics in 1912, competed the Hanoverian Lucky Boy (by Der Löwe xx), a relative to Karin Schlüter's great chestnut Liostro, who was on the German team. It was quite clear that Germany and the Soviet Union would fight for gold, but behind them there seemed to be a fight between the Scandinavian countries Sweden and Denmark.
The horses, which lived in extremely modern stables at Munich-Riem, where the jumping and eventing competitions were held, had to be transported to downtown Munich one day before the Grand Prix. The dressage was held in front of the most beautiful Nymphenburg castle, which was joyful to watch, but enabled fewer spectators to take part. It meant that the horses had a travel priority and had to live in stable tents nearby.
The beautiful and peaceful scenery was soon overshadowed by horrendous news: "Terrorists had kidnapped Israeli athletes and murdered them in the Olympic village, where we lived. It was considered to cancel the Games," Ulla remembered her first Olympics.
The Grand Prix was postponed for a day, but went on after IOC president Avery Brundage had decided "The Games must go on!""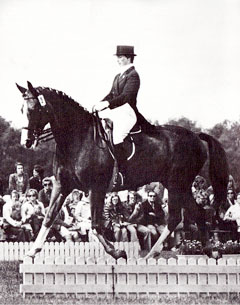 The Swedish horses all went brilliantly, especially Ajax, who finished fifth in the Grand Prix. This ranking was the result of very different opinions among the judges, who placed him 2nd, 3rd, 8th, 9th and 13th. The Swedish team won the coveted team bronze medal with almost 250 points ahead of Denmark and all three ladies qualified for the individual final.
In the Final Ajax placed sixth, only 4 points behind the Russian thoroughbred Tarif xx, who was placed three times 5th, 11th and 2nd by the five judges. It was a great success for Sweden and a wonderful Olympic debut for Ulla Håkanson.
Ajax, who was already fifteen years of age at Munich, was able to maintain his form and consistency, placing fifth at the European Championships at Aachen in 1973 and ninth at the World Championships at Copenhagen a year later, both times being an individual participant as Sweden failed to send a team.
Ajax missed the 1975 European Championships in Sweden, because the national federation did not send a representative to this "far away" competition. But the federation did decide to send Ajax to his second Olympic Games in Montréal 1976, when the horse was 19 and still fit to compete at the highest level. Unfortunately Sweden again could not send a team after Casanova, aged 21, had died at Aachen and another horse went lame.
Nobody could foresee that Ajax, this faithful companion, would never return from this Olympic journey to enjoy a retirement. It was the oldie's first flight and quite a long one, but Ajax traveled happily without incident. The next day Ulla found him ill in his stable and he showed signs of colic. The vet wasn't able to help the horse and Ajax died the same day.
An autopsy showed Ajax had a kidney tumour which caused his tragic death in Canada. Nobody could have known this and it was a very sad end of an extraordinary career, which  made Ajax a legend in Scandinavia and has brought Ulla on the path of dressage, on which she has stayed ever since.
"Ajax was a very good friend, who was always in good mood and happy. He got along with everything in his life and I could play with him in the paddock like with a dog," Ulla summarized. To remember her " best horse ever" Ulla wrote a book about their time together, titled "Ajax and I". Parts of it are translated to German and exhibited in the museum at the Soers in Aachen.
Even today Ajax' name carries weight as Ulla has established a fund to support talented young riders in Sweden, named after her great horse: "The Ajax Fund".
"Rarely one has the chance to meet and ride such a fantastic horse," said Ulla, who is grateful to have met Ajax in her life. Reversibly Ajax only became the legend he is today since he had a rider of Ulla's caliber, who always believed in him and gave him the chance to come into his own.
by Silke Rottermann
Related Links
Ulla Håkanson Pays It Forward with "Ajax Fund"
Greatest Oldies: Mehmed, Triumph of Training
Greatest Oldies: Antoinette, Josef Neckermann's Prima Donna
Greatest Oldies: Mariano, the first World Champion