2010 U.S. Dressage Championships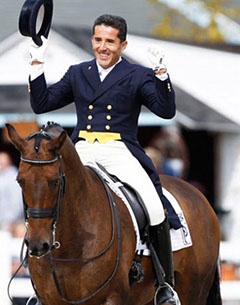 In his first opportunity to ride for a US National Championship, Cesar Parra capitalized on the chance and took home top honors at the 2010 U.S. Small Tour Championship at the 2010 U.S. Dressage Championships, also known as the Festival of Champions. A Colombian native, Parra began riding under the US flag in 2009, since then he has reaped the reward.
"I wanted to go for it," said Parra after his ride. "These are very good riders, with all these riders you can take nothing for granted."
Riding Olympia, an energetic 14-year-old Dutch Warmblood gelding owned by Lori Washton, Parra (White House Station, NJ) impressed everyone on hand at the USET Foundation Headquarters in Gladstone, NJ to a musical medley by Earth, Wind and Fire. The music suited Olympia, whose lively nature is positively amplified with atmosphere and he scored 74.800% based on the strength of his trot work and his pirouettes.
"I was just thinking about doing my very best," said Parra. "It is very difficult choreography for this level… I knew it was good, and I was very grateful. It is very, very exciting."
The pair was the crowd favorite (many of Parra's local supporters were on hand) and the favorite of the Ground Jury, they marked him well clear of the competition and Parra finished with not only the winning freestyle mark, but also the best overall percentage from the three days of competition.
"It's a dream come true," said Parra of winning a National Championship on his very first try.
But 22-year-old Kassandra Barteau (Maple Park, IL) gave Parra all he could handle. She won the Prix St. Georges (the first leg of the Intermediaire I Championship) on Friday with Toscano in her first try contesting an open championship. The 2008 and 2009 National Young Rider Dressage Champion made it clear that her legacy wasn't going to end when she turned 22.
"My horse was really great," said Barteau. "I'm proud of him. He was really on my aids all weekend, I couldn't have asked for more from him."
After winning the Prix St Georges, she and Kristin Cooper's 10-year-old Dutch gelding were second in the Intermediaire I and then third in the Freestyle with a score of 71.650% to music from the movies Madagascar, Driving Miss Daisy and Shrek. Her overall score was good enough for Reserve Champion honors in a division of classy veteran riders.
"It's a pretty amazing feeling," said Barteau at the press conference. "I'm honored and lucky to be sitting here."
Jessica Ransehousen, who served as President of the Ground Jury had high praise for Barteau, especially regarding how she has evolved through the ranks and was able to maintain high scores at the Intermediaire I level throughout the course of the competition.
Chris Hickey, the Team and Individual Gold medalist from the 2007 Pan American Games was right on Barteau's heels and made her work for her reserve honors. Hickey (Colora, MD) rode Hilltop Farm's Cabana Boy to a dynamic freestyle to tropical music that suited both the eight-year-old Dutch gelding's name and presence in the arena. Cabana Boy has won USEF National Championships at every turn over the last three years. He was both the five and six-year-old champion in the Markel/USEF Young Horse Championships in 2007 and 2008 and then he was the Developing Horse Champion in 2009 (sponsored by the Dutta Corporation and Performance Sales International).
He capitalized on the horse's strengths and was rewarded with high marks from all five judges for a freestyle score of 72.500%.
"That horse has a fabulous canter," said Hickey. "His pirouettes can be very, very good but he is eight years old so he needs to get strong and stay consistent in his work."
All three riders indicated that these horses would be aimed toward the 2011 Pan American Games in Guadalajara, Mexico next fall. The Pan American Games are held at the Intermediaire I level and they prove to be a great opportunity for up-and-coming horses and riders to get a true first taste of team experience.
With the work in the Intermediaire I championship complete, Barteau will turn her focus to the Brentina Cup next weekend, which is the 'Young Adult' Championships for riders coming up to the Grand Prix level between the ages of 22 -28 years old. She will ride Be Se.