2010 Swiss Young Horse Championships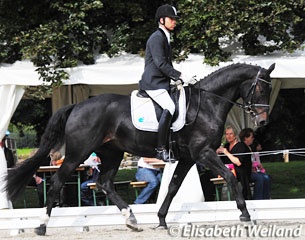 Kayal du Perchet, Dandy de la Roche and Don Camillo II became the winners of the Swiss Young Horse Championships in Avenches, Switzerland, on 17 - 19 September 2010. These national championships are restricted to Swiss warmblood registered horses and the event also included an M and S-level dressage championships as well as a foal championships of which the winners in the dressage division were Orla vom Loo and San Valentino.
Swiss Gilles Ngovan swept the board in three championship divisions. Besides winning the M-level (with licensed stallion Del Cuero) and S-level championship (aboard Dream of Night Fluswiss), Ngovan dominated the 4-year old division aboard Kayal du Perchet, a GB Konvally x Akribori offspring. The combination scored 8.66 and left all competition behind them. Markus Graf and the Swiss licensed stallion Weltjunge (by Weltfeuer x Linaro) finished second with 8.40 points. 
Antonella Joannou and the 5-year old Dandy de la Roche (by Dressage Royal x Welt Disney) created a big gap in the 5-year old division by fending off last year's 4-year champion Bugatti G (by Belissimo M x Rohdiamant) with 0.41 points. Joannou scored a total of 8.57 and referred Markus Graf and Bugatti to the reserve champion's position.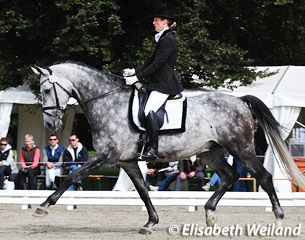 A similar scenario occurred in the 6-year old championship as Pascale Hauenstein and Don Camillo II (by Dressage Royal x Hill Hawk xx) captured the national title with 71.35 points and pushed the 5-year old champion of 2009, Darko of De Niro (by De Niro x Gagneur), to a second place. Sandra Meier and Darko scored 69.98 points. 
The 2010 Swiss Warmblood Foal Championship was won by Orla vom Loo (by Sir Donnerhall x Don Corleone) in the filly category and San Valentino (by San Amour x Granulit) in the colt division. 
Photos © Elisabeth Weiland
More Photos of the Swiss Champions Below in the Image Gallery!
Results
4-year old Dressage Horses - Finals
1. Gilles Ngovan - Kayal du Perchet (Konvally x Akribori) - 8.66
2. Markus Graf - Weltjunge (Weltfeuer x Linaro) - 8.40
3. Markus Graf - Astranova Grande (Riccione x Abanos) - 8.24
4. Gilles Ngovan - Ruwina (Rubin Cortes x White Magic) - 8.08
5. Myrta Zbinden - King du Perchet (Konvally  x Columbus) - 7.96
6. Eva Nydegger - Calypso C&A (Il Cesare x Donnerknall) - 7.74
7. Tiziana Realini - Fair Play de la Roche (French Kiss x Walt Disney) - 7.71 
8. Bianca Buhlmann - Serenella (Samarant x Royal Diamond) - 7.50
9. Gilles Ngovan - Cameron H (Contendro x Calido) - 7.46
10. Bettina Mischler - Grace RR (Sandro Hit x Rubinstein) - 7.45
11. Hans Voser - Fiorano (French Kis x Latus II) - 7.24
Sandra Schmalz - Fuerstin Lin CH (Furst Heinrich x Padarco vh Hertsveld) - DNS
5-year old Dressage Horses - Finals
1. Antonella Joannou - Dandy de la Roche (Dressage Royal x Walt Disney) - 8.57
2. Markus Graf - Bugatti G (Belissimo M x Rohdiamant) - 8.16
3. Christiane Schroder - Stedi King (Stedinger x Noble Roi xx) - 7.68
4. Tiziana Realini - Robin Hood (Rubicell x Capriccio) - 7.56
5. Rebecca Zbinden - Palmiro (Pik Holiday x Astrivoire) - 7.45
6. Tamara Horisberger - Riccia de Meyrattes (Riccio x Quater) - 7.37
7. Nicolaas van der Ven - Domenica III (Don Bedo x Tocuyo xx) - 7.17
8. Miriam Eger - Aquilino's Son M (Aquilino x Avanti III) - 7.13
9. Sabrina Schmid - Amici Mi (Aqua Minerale x Donnerhall) - 6.87
10. Romy Weber - Forsythia (French Kiss  x Mykonos xx) - 6.80
11. Eva Nydegger - Dionysos (Donnerknall x Der Willi) - 6.78
12. Ursula Furer - Wellingthon (Weltfeuer x Rubinstein) - 6.77
6-year old Dressage Horses - Finals
1. Pascale Hauenstein - Don Camilo II (Dressage Royal x Hill Hawk xx) - 71.35
2. Sandra Meier - Darko of de Niro (De Niro x Gagneur) - 69.98
3. Gilles Ngovan - Fee VI (Feinsinn x Davignon)  - 68.82
4. Tamara Horisberger - Oxyle de Meuyratts (Florestan x Qauter) - 66.72
5. Brigitte Hartmann Imgrut - Darek (Dressage Royal x Capo) - 65.55
6. Katirn Schädlich - Showmann (Stedinger x Rubinstein) - 65.31
7. Petra Luthi - Darling's Dream (De Niro x Weltruhm) - 65.23
8. Stephanie Riedi - Aragon (Alabaster x Pik Holiday) - 65.16
9. Jasmin Isenschmid - Goldbach Danburit (Dressage Royal x Levantos) - 64.88
10. Jasmin Isenschmid - Goldback Ginger (Granulit x Courage) - 64.82
11. Caroline Rindlisbacher - Nijinski Florinov (Florestan x Donnerprinz) - 64.67
12. Brigitte Hartmann Imgrut - Flying Angel (Florestan x Rubinstein) - 64.61
M-level Championship (top 3 only)
1. Gilles Ngovan - Del Cuore (Dr Doolittle x Weltmeyer) - 72.63
2. Caroline Rindlisbacher - Rigoletto Royal (Rubin Royal x Donnerschlag) - 70.95
3. Celine Michaud  - Grinez (Gauguin de Lully x Freischutz) - 68.96
S-level Championship (top 3 only)
1. Gilles Ngovan - Dream of Night Fluswiss (Dream of Glory x Rubinstein) - 73.91
2. Antonella Joannou - Wantino (Wandango x Weinfurst) - 70.87
3. Christiane Schroder - Luzius del Lus (Lanthano x Pavarotti van de Helle) - 67.65
Swiss Warmblood Foal Championship - Dressage Fillies (top 5 only)
1. Orla vom Loo (Sir Donnerhall x Don Corleone) - 294 points
Breeder/Owner: Peter and Denise Luder
2.  Dolce Vita (De Niro x Don Primero) - 288 pts
Breeder/Owner: Priska Diem
3. Diva von Buchmatt (Distelzar x De Niro) - 286 pts
Breeder/Owner: Josef Lustenberger
3.  Nanuq d'Hirondelle (Rubin Royal x Cassini II) - 286 pts
Breeder/Owner: Rebecca Hari Rollbuchler
5. La Ballerina (Londontime x De Niro) - 280 pts
Breeder/Owner:  Grunder Bauen 
Swiss Warmblood Foal Championship - Dressage Colts (top 5 only)
1. San Valentino Live (San Amour x Granulit) - 282 points
Breeder/Owner: Monika Pastore Hofstetter
2.  Don Madeiro (Don Frederico x Mamiro) - 280 pts
Breeder/Owner:  Alexandra Schacher
3. Donnerprinz vom Hubelifhof (Donnerknall x Rohdiamant) - 278 pts
Breeder/Owner: Elisabeth Joss Weber
4. Corazon B (Del Cuore x Don Primero) - 268 pts
Breeder/Owner:  Theodor Bögli
5. Romantico SBM (Furst Romancier x Rubin Cortes) - 264 pts
Breeder/Owner: Peter Matzinger
Related Links
Fayahra MFW, Champion of the Swiss Warmblood Elite Mare Show
Weltjunge Only Dressage Colt Approved at 2009 Swiss Stallion Licensing
Bugatti G, Darko of De Niro, Del Cuore Win 2009 Swiss Young Horse Championships