2010 Equine Elite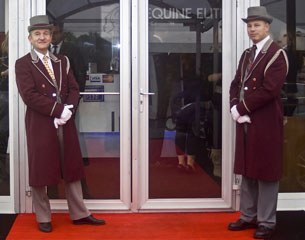 On 23 October 2010 the sixth edition of europe's most spectacular auction, The Equine Elite, will be a fact. This landmark event has secured a place in the Dressage World and stolen the hearts of all who have visited it.
  The collection of more than 40 horses have been available for trial rides at the Korenbloem facility in Weert since 1 September 2010.
This years collection is made up of horses between 3 and 13 years old at levels from novice through to Grand Prix and, amongst others, includes several premium mares and Licensed breeding stallions. This year's selection committee consisted of Lotje Schoots (15 time winner of the Dutch championships and 6 time gold medal winning European champion), Laurens van Lieren (Dutch Team), Jeanette Haazen (Dutch A squad ), Francis Verbeek ("O" Judge), Chris Haazen (International Trainer), Diederik Wigmans (International Trainer) and International dealer Craig Rawlins.
Diederik Wigmans stated that, "This is without a doubt the best collection of horses to date and we would like to thank the hundreds of people who took the time to present their horses at the selections."  Jeanette Haazen simply added that "what Lady Gaga is to Music and Karl Lagerfield to Fashion, that is Equine Elite to the Equestrian Sport!"
Everything is in full swing at the Equine Elite facility in Weert and customers are welcome to test the horses by appointment. For buyers who would like to insure their purchases not one, but two different insurers will be present. The horses can be insured for 14 days with the option to extend to full cover within that period. All the horses have been vetted at one of Holland's top Veterinary Practices.
This promises to be another fantastic event and as everybody knows, the luxurious surroundings and top-end entertainment are second to none. As always the organisors are cautioning people to book their tables as soon as possible to avoid disappointment - Equine Elite has been completely sold out every year since it began. Please note that there are no ticket sales at the gate.
Back to the Eurodressage Equine Elite index