2010 Equine Elite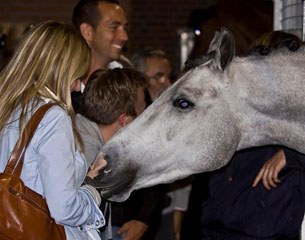 In just a little over two weeks the hammer will fall at Europe's Premier Auction, Equine Elite. Five wildcards have been issued bringing the total up to 45 horses in the collection.
The wildcards include the Dutch Junior Riders team horse Seigneur (who was part of the 2010 Silver medal team) and a 9-year old international PSG horse by Jazz.
The facility in Weert, which hosts the Equine Elite Auction, is once again buzzing with activity with customers jetting in from all over the world to test the selected horses.

As predicted, this exclusive event is once again completely sold out. Co-organisor Diederik Wigmans commented that, "we are doing our best to see if we can widen one side of the arena which will allow us to accomodate another 100+ guests. We are fairly confident that our event builders will manage it."
This year's collection is made up of considerably more trained horses than previous years with more than half of the collection ranging between 5 and 12 yrs old."