FEI Dressage News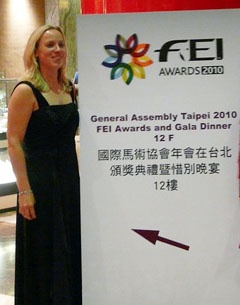 British groom, Michelle Tipper, has won the FEI Best Groom Award at the gala evening of the FEI Awards held during the 2010 FEI General Assembly in Taipei on 5 November 2010.
A former young international dressage rider and national netball player, Michelle worked for British dressage Champion, Nicky Barrett for three years as a travelling groom. Since then she has freelanced for international and national riders, including Paralympian, Simon Laurens at the Beijing Paralympic Games in 2008 and 2010 World Champions, Sophie Wells and Emma Sheardown at the 2010 World Equestrian Games in Kentucky.
Michelle commented on her award; "It was a great honour to collect the grooms award and it is fantastic that grooms are being recognised worldwide. To receive the award from Princess Haya was a privilege. We are very lucky in Britain to have such a great support system for grooms, British Grooms Association is a fantastic association who provide support and the British Equestrian Federation always make sure we are looked after.
"I would not be where I am now without my Old Berkeley Hunt North pony club, Nicky and Richard Barrett from who I learnt and grew so much with, and the support of my parents. Sadly dad passed away eighteen months ago, but I know he would be proud."
"I have been very lucky to work with all the riders I have and I would like to thank you all."
Michelle was one of five rewarded for outstanding dedication to horse sport; Edward Gal and Moorlands Totilas received Reem Acra best athlete award; Caroline Roffman was HSBC's Rising Star; Ebony Horse Club, who are based in Brixton, received the Alltech Development award and Angelika Trabert won the Against All Odds award.
Related Links
Caroline Roffman Honored by HRH Princess Haya at FEI Awards Ceremony in Taipei
Dressage Riders Gal and Roffman Honoured at 2010 FEI Awards