Hanoverian Breeding News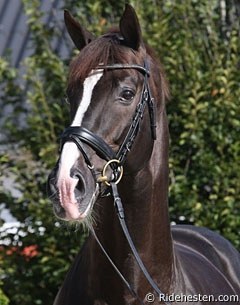 The Hanoverian and Oldenburg licensed stallions Real Diamond and Don Schufro are the leaders of the 2010 German Breeding Value Index, which was published today by the German Equestrian Federation.
Wolkentanz I, Furst Heinrich and Don Primero scored the highest in breeding reliability.
The Hanoverian stallion Real Diamond (by Rohdiamant x Weltmeyer) achieved the highest breeding value index of 173 points, beating foundation stallion Don Schufro (by Donnerhall) who had 171 points. Real Diamond's breeding reliability was 83 percent, while Don Schufro's was 95 percent. Real Diamond stands at stud at Landgestut Warendorf, while Don Schufro is Blue Hors Stud's number one breeding stallion.
The Hanoverian Wolkentanz I (by Weltmeyer x Ludendorff), the Oldenburger Furst Heinrich (by Florestan) and the Oldenburger Don Primero (by Donnerhall) all scored the highest on breeding reliability with 98 percentage points. The older the stallions are and the more statistics available, the higher this reliability score can be.
The breeding value index is indicative of the performance potential a sire passes on to his offspring. The index is based on data collected from more than 590,000 horses. More than 11 million scores from competition shows, 2,7 million scores from riding horse classes and 75,000 results form breed shows as well as 7,000 scores from stallion performane tests are tabulated to determine the breeding value index.
The highest scoring dressage stallions are:
Results
Belissimo M, Rhinelander by Beltain – Breeding Value 164 points, reliability 95 %
Breitling W,  Hanoverian  by Bismarck -  Breeding Value 170 points, reliability 86 %
Daddy Cool, Oldenburger  by Don Davidoff -  Breeding Value 156 points, reliability 78 %
Daidalos, Hanoverian  by Dream of Glory -  Breeding Value 151 points, reliability 88 %
Damon Hill, Westfalian by Donnerhall -  Breeding Value 170 points, reliability 88 %
Dancier, Hanoverian  by De Niro -  Breeding Value 162 points, reliability 86  %      
Dancing Dynamit, Westfalian  by Don Bedo I -  Breeding Value 168 points, reliability 89 %
Diamond Hit, Oldenburger  by . Don Schufro -  Breeding Value 156 points, reliability 96 %
Dollmann, Westfalian  by Davignon II -  Breeding Value 159 points, reliability 86 %
Don Davidoff, Oldenburger  by Don Gregory -  Breeding Value 152 points, reliability 84 %
Don Primero, Oldenburger by . Donnerhall -  Breeding Value 155 points, reliability 98 %
Don Rubin, Oldenburger  by Donnerschwee -  Breeding Value 151 points, reliability 85 %
Don Schufro, Oldenburger  by Donnerhall -  Breeding Value 171 points, reliability 95 %
Donautanz, Hanoverian  by   De Niro –  Breeding Value 154 points, reliability 82 %
Dr. Jackson D, Württemberger  by Dream of Glory -  Breeding Value 155 points, reliability 92 %
Dresemann, Hanoverian  by Daidalos -  Breeding Value 152 points, reliability 86 %
Fidertanz, Rhinelander by Fidermark -  Breeding Value 154 points, reliability 90 %
Florencio I, Westfalian by Florestan I -  Breeding Value 152 points, reliability 96 %
Fürst Heinrich, Westfalian by Florestan I -  Breeding Value 151 points, reliability 98  %  
Fürst Piccolo, Rhinelander  by Fidermark -  Breeding Value 153 points, reliability 97 %
Hibiskus, Trakehner by Latimer -  Breeding Value 151 points, reliability 90  %      
Hofrat, Trakehner  by Gribaldi -  Breeding Value 158 Punkte, reliability 94 %
Hotline, Hanoverian  by Hofrat -  Breeding Value 158 points, reliability 86  %        
Insterburg, Trakehner  by Hohenstein -  Breeding Value 151 points, reliability 89 %
Jazz, Dutch warmblood by Cocktail -  Breeding Value 159 points, reliability 80 %
Locksley I, Hanoverian  by Londonderry  -  Breeding Value 152 points, reliability 78  %  
Lord Loxley, Rhinelander by Lord Sinclair -  Breeding Value 156 points, reliability 92 %
Lucky Dance, Hessian by Lucky Lionell -  Breeding Value 151 points, reliability 72 %
Münchhausen, Trakehner  by Hohenstein -  Breeding Value 160 points, reliability 96 %
Pasolongo, Bavarian by Pacelli W -  Breeding Value 153 points, reliability 80  %     
Real Diamond, Hanoverian by Rohdiamant -  Breeding Value 173 points, reliability 83 %
Rhodes Scholar, Hanoverian  by Rohdiamant -  Breeding Value 154 points, reliability 85  % 
Rock Forever, Westfalian by Rockwell -  Breeding Value 156 points, reliability 79  %       
Romanov, Oldenburger by Rohdiamant -  Breeding Value 154 points, reliability 85  % 
Royal Blend, Hanoverian  by Rotspon -  Breeding Value 151 points, reliability 92 %
Samba Hit II, Brandenburger  by Sandro Hit -  Breeding Value 155 points, reliability 85  %    
San Remo, Oldenburger by Sandro Hit -  Breeding Value 153 points, reliability 91 %
Sancisco, Oldenburger by Sandro Hit -  Breeding Value 160 points, reliability 87 %
Sir Donnerhall, Oldenburger by Sandro Hit -  Breeding Value 166 points, reliability 96 %
Sorento, Oldenburger by Sandro Hit -  Breeding Value 154 points, reliability 77  %   
Wanthano H, Hanoverian  by Wolkentanz II -  Breeding Value 161 points, reliability 75 %
Welt Hit I O, Oldenburger by Weltmeyer  -  Breeding Value 152 points, reliability 90 %
Welt Hit VI, Oldenburger  by Weltmeyer -  Breeding Value 161 points, reliability 75 %
Wolkentanz, Hanoverian by Weltmeyer -  Breeding Value 151 points, reliability 98 %
Photo © Ridehesten.com
Related Link
Don Schufro Most 'Valuable' Breeding Stallion in 2005