2010 KNHS Subli Championships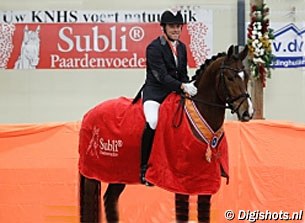 TC Beau Deux, Presidents Avanti and Zorro became the winners of the incipient 2010 KNHS Subli Championships for young dressage horses in Ermelo, The Netherlands, on 27-28 December 2010. The 4-year old dressage horses appeared in one finals test, whereas the 5 and 6-year olds had to do a qualification round on the first day of the championship, followed by a decisive final round.
Geert-Jan Raateland dominated the 4-year old division aboard the dark bay Dutch warmblood mare TC Beau Deux (by Ravel x Gouverneur). The mare, who is owned by Raateland, Schotte and Coomans, scored the highest total of 79.00%. Miranda Rongen and the black Rhinelander stallion Sir Fashion (by Sir Donnerhall x Rosenkavalier) became the runners-up with 78,133%. Laurens van Lieren finished third on Presidents Bolero (by Uphill x Balzflug) with 72,867%.
Former Dutch Grand Prix team rider Van Lieren won the 5-year old division aboard the KWPN stallion Presidents Avanti (by United). In the FEI 5-year old young dressage horse test the combination scored an impressive 88,20% to claim the overall victory after also having dominated the first qualification round. Van Lieren continued his triumph by also finishing second with Presidents All Right (by Jazz x Royal Dance) with 84,40%. Jean-Rene Luijmes rode Aswin (by Sandreo x Jazz) to a third place with 82.00%.
Geert-Jan Raateland won the 6-year old class aboard Zorro (by Jazz x Contango) scored 83,60% but was only a fraction better than the Turkish born Ceylan Avinal on the bay Zygrande le Coupied (by Krack C x Ferro) with 83.00%. Margreet Prosman and the So What (by Sandro Hit x Donnerhall) ranked third with 80.00%
Bertus Wijnveen, director of Subli Horse Feed, was pleased with the Championship: "a good start is half the job. This year's competition is a stepping stone for a successful formula in the future. We'll continue next year with a few changes."
Photo © Digishots.nl
Results
4-year olds - KNHS-Subli Championships
1. TC Beau Deux (Ravel x Gouverneur) - Geert-Jan Raateland 79,000 %
2. Sir Fashion (Sir Donnerhall x Rosenkavalier) - Miranda Rongen 78,133 %
3. President's Bolero (Uphill x Balzflug) - Laurens van Lieren 72,867 %
4. Buenos Aires (Scandic x Jetset D) - Vivian de la Roy 71,800 %
5. Be Special (Special D x Rex Magna) - Fieke Houwen 71,600 %
6. Blitz (Painted Black x Krack C) - Cathy van Oversteeg 71,067 %
7. Bamorkus (Contango x Jazz) - Jean-René Luijmes 70,667 %
5-year olds - KNHS-Subli Championships
1. President's Avanti (United x L'Amusanta) - Laurens van Lieren 88,200 %
2. President's All Right (Jazz x Royal Dance) - Laurens van Lieren 84,400 %
3. Aswin (Sandreo x Jazz) - Jean-Rene Luijmes 82,000 %
4. President's Saturday Night (Sandro Hit x Bormio) - Philipe van Ommen 78,200 %
5. Anieni - K (United x Jetset D) - Margot Kostelijk 77,400 %
5. Astrid Sollenburg (OO Seven x Metall) - Floor Droge 77,400 %
7. Arlando K (Paddox x Mytens) - Diederik van Silfhout 76,800 %
6-year olds - KNHS-Subli Championships
1. Zorro (Jazz x Contango) - Geert-Jan Raateland 83,6%
2. Zygrande le Coupied (Krack C x Ferro) - Ceylan Avinal 83,0%
3. HCH's So What (Sandro Hit x Donnerhall) - Margreet Prosman 80,00%
4. Zoraida (Painted Black x Jazz) - Femke Beljon 77,2%
5. Zaragossa (San Remo x Democraat) - Robin Beekink 77,0%
Related Links
Qualificants for the 2010 KNHS Subli Young Horse Championships
KWPN Prepares for 2011 World Young Horse Championship Selection Trials