KWPN Breeding News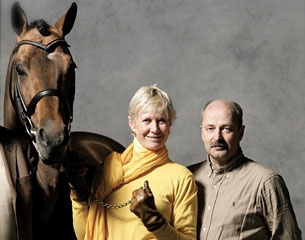 In January 2011 Karin and Offield Farms announced that KWPN licensed stallion Lingh (by Flemmingh x Columbus x Lucky Boy) will be standing in Germany for the 2011 breeding season.
"I am thrilled to have made this decision for Lingh. He is turning out to be an excellent breeding stallion, producing quality foals that have the minds and character to become super sport horses," said Offield. "Youngsters by Lingh are showing lots of quality and ability for dressage and jumping. I have enough information now to say that they are easy for breeders and riders to handle, have terrific trainability, and show great work ethic - so similar to Lingh!"
Lingh will be standing at Thomas Casper's prestigious south German stallion station Gestut Birkhof in Donzdorf. "Breeding to produce "a champion" takes teamwork and I'm satisfied that in co-operation with Gestut Birkhof in southern Germany, Lingh can influence the sporting world for years to come. Meeting Thomas Casper and discovering his passion for breeding and his admiration of Lingh is the highlight of my year," Karin shared.
"Relocating to Germany offers a wonderful next platform for Lingh as a breeding stallion," adds Susanne Hassler of Hassler Dressage, Lingh's US agent and representative. "Through Gestut Birkhof Lingh will more readily service the German mare base and hopefully extend his influence to mares in neighboring countries like France, the Netherlands, and Belgium. As one of the top stations in south Germany, Gestut Birkhof is the ideal home where he will receive individualized care and management while servicing mares from a reputable, established EU Station."
Lingh will soon travel from Sweden to Germany but will remain active in the Flyinge breeding program through shipped fresh cooled semen in addition to the frozen semen Flyinge has in storage.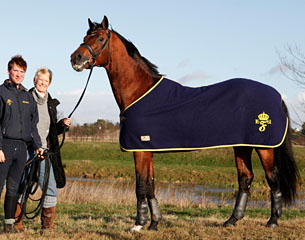 "I am indebted to all at Flyinge for the wonderful care and management they provided Lingh over the past two and half years. Working with Karl-Henrik Heimdahl, Flyinge's Breeding Director was an extraordinary experience for me; he certainly taught me a lot about breeding and Swedish sensibility. They helped me transition Lingh from his active performance career to his life as a breeding stallion. I will forever be thankful for the committed, detailed care he received by all the staff at Flyinge, especially Maths Ortbring, Lingh's groom. I am excited to begin new friendships and to see Lingh have the opportunity to shine in the South. This move for Lingh is a celebration, a fulfillment of my vision for his influence to extend across many borders. I personally want to thank Susanne Hassler for her continued assistance. As a stallion owner I am inexperienced, but she has given me wings... Lingh and I are grateful. He shall have a very good home at Gestut Birkhof. " concludes Karin.
Lingh has a stud card on Eurodressage. Check it out here
Photo © Marielle Andersson Gueye

Related Links
Lingh Sold to the United States
Gestut Birkhof: Dressurstar Lingh auf Gestüt Birkhof