AES Breeding News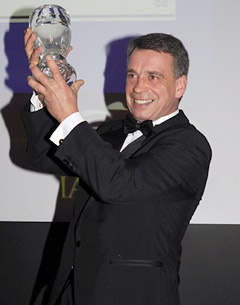 The 16th annual British Breeders Awards Dinner at the Grange Hotel in London on Saturday 8 January yielded more high profile British bred wins than ever! With presentations made by the British Equestrian Federation
to the breeders of WEG medal winning horses Cool Mountain, WH Bentley, Academy Award, Teddy and Purdy's Dream alongside the breeders of the up and coming British bred sport horses recognised by their respective disciplines British Showjumping, British Eventing, British Dressage.
The next generation in the form of the Baileys Horse Feeds/BEF Futurity winners for 2010 (including top sire Grafenstolz and top dam Katinka) were presented with awards or certificates of merit and looking to the future, Horse and Hound's Outstanding Mare Award was made to UK Hanoverians' St Pr Welunjia on the basis of her progeny performance record.
Caesar 171, the recipient of the Sports Pony Studbook Society's performance and breeding award recognises that Britain is a frontrunner in the production of performance ponies for your young riders.
South Essex Insurance Brokers' Racehorse to Riding Horse Awards celebrate the many retrained racehorses who go on to have successful high level careers following the racetrack - demonstrated  by high achieving eventing performers Danaan Prince and Alligator Alley.
The pinnacle of the evening, the Equestrian Edge Meritoire for an outstanding contribution to British breeding went to Henk Minderman, the man behind Renkum Stud and the Anglo European Studbook who has brought a British studbook into the World Breeding Federation for Sport Horses top 10 rankings twice during 2010.
"The AES is now Britain's leading studbook," said studbook director Henk Minderman, co-owner and founder of the AES. "The significance for the studbook and for British breeding is that we have proved able to produce horses of top international standards. These statistics confirm we're beginning to hold our own against the big traditional studbooks and even surpassing many of the long established ones. Many people in the UK still believe that we are far behind with our breeding. This result will require them to re-think and be more positive about our future equine generations. Buying British is certainly an option nowadays.
Henk firmly believes in the benefits of British breeding and these latest figures have ratified his vision for the future to launch a Breeders Elite of Great Britain section of the AES.
"For the AES it's conformation to carry on in the same direction as in the past 17 years, but with renewed energy," he said. "We are basically a stud book for riders breeding their own future horses who know their horses well enough to make an informed choice of mating. In contrast, many of the continental farmers tend to follow fashion with marketing their foals a priority rather than studying the inner qualities of their broodmares who often are unproven in the sport."
Related Links
Santorini and After Midnight Approved at 2010 British AES Stallion Licensing
Two Dressage Stallions Licensed at 2010 AES Stallion Licensing