Canadian Dressage News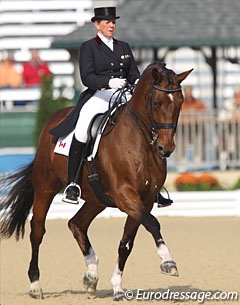 The Dressage Canada High Performance Committee announced that Bonny Bonnello, a former Canadian Olympian and a member of the 2010 World Equestrian Games team, will act in the role of Assistant Coach Advisor for the Del Mar CDI
scheduled for March 10th – 13th, 2011, in Del Mar, California.
Current Technical Coach Advisor Robert Dover and the Dressage Canada High Performance Committee felt it was very important to have someone attend the Del Mar CDI to not only assist and provide feedback for the riders if requested during the competition, but also to be the eyes on the ground for Robert Dover while he attends the West Palm Beach CDI in Florida also scheduled for March 10th – 13th, 2011.
Bonny's responsibilities during the Del Mar CDI will include:
Monitoring the CDI athletes and discussing their programs and plans for 2011;
Assisting Canadian riders upon request with warm-up and training prior to or between their competition rides;
Liaise with and promote co-operation with the owners and personal coaches of Canadian riders as these people are available;
Observe warm-ups and the competition tests for all Canadian CDI athletes with special attention to the Pan American and the Grand Prix combinations;Ensure that all of the riders have their tests put on video for review by the Dressage Canada Technical Coach Advisor following the competition;
Meeting with all the long-listed athletes their owners and personal coaches (the later where possible), during the weekend and discussing their plans, desires, and concerns for the immediate and long-term future. This, information is to be reported verbally and/or in writing to Dressage Canada Technical Coach Advisor, the EC Manager Dressage and the High Performance Committee.
Technical Coach Advisor Robert Dover will be in attendance to assist riders personally at the following CDI's in CA:
Burbank CDI1* - Feb 24th- 27th
Burbank CDI3* - March 31st – April 3rd
Related Links
Robert Dover Rehired as Interim Dressage Canada Technical Coach/Advisor
Robert Dover No Longer Canadian Dressage Team Technical Coach