French Dressage News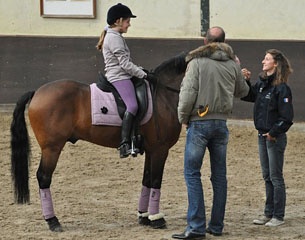 The French FEI Dressage pony riders gathered for a team observation trial and clinic with German trainer Hartwig Burfeind near Paris on 25 - 27 March 2011. French pony chef d'equipe Alizee Froment was at hand to observe the combinations and support them in their efforts.
"They worked really hard and tried to give their best," Froment told Eurodressage about the pony clinic. "Hartwig thought that the riders he knew had made a lot of progress since the last clinic in Saumur and was so happy with that. He has also saw some new combinations and gave a lot of exercises to be more competitive. The overall spirit was excellent."
Eight pony riders and one junior participanted in the clinic. They were:
Morgane Euriat / Italic des Landes
Florian Aubin / Glacy du Halage
Caroline Dufil / Ivry de Montoux and her junior rider's horse Porto
Cécile Merglen / Bajazzo
Clarissa Rufin / Dacapo
Katia Bues / Boris W
Marine Jarry / Champion de Luxe Junior
Pauline Guillem / Whisper Gold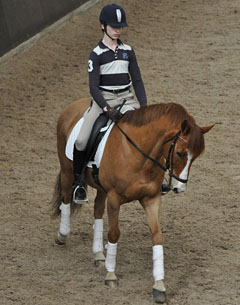 This upcoming weekend the French pony riders will assemble at the national show in Jardy, where the competition will count as a team selection trial. Froment will select a team for the CDIO Saumur as well as the combinations eligible to ride in the CDI-P tour. The 2010 French pony champion, Joy Albeck, is based in Germany and did some competitions there with her new ride Tim. She will be going to Saumur for sure.
New pony combinations which Froment will see for the first time in Jardy are:
Gabrielle Flament / Mad du Bosc
Capucine Molliex / Milord
Salomé Huet / Maxence des Bergers
Luce Bentejac / Mon Nantano de Florys (2008 European Eventing Pony Championship silver medallist)
Photos © Philippe Aubin
Related Links
French Youth Riders Meet with Hartwig Burfeind
Alizee Froment Appointed French Pony Chef d'Equipe