FEI Dressage News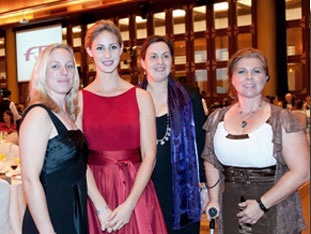 A week after nominations opened for the FEI Awards 2011, Michelle Tipper, the British winner in last year's Best Groom category, has called on athletes and horse-owners to make their nominations.
"I highly recommend that employers nominate their staff," said Tipper. "It is such a boost to your motivation to have this recognition and it's great for the employer, as good grooms work so much better for employers who care."
The freelance groom, who works regularly with British Dressage riders Paul and Bobby Hayler and Nicky and Richard Barrett, said it was an "honour and a privilege" to win the 2010 Best Groom Award. "It is fantastic that the hard work that grooms do behind the scenes is being recognised internationally," Tipper said.
Nominations for all five categories of the FEI Awards (Best Groom, Reem Acra Best Athlete, HSBC Rising Star, Against all Odds and Development) can be made via the dedicated website www.feiawards.org.
The winners will fly to Rio de Janeiro, Brazil to attend the FEI Awards Ceremony at a VIP gala dinner, which will take place during the FEI General Assembly in November.
Nominations close on 31 July.
Grooms, Riders LOOKING FOR A JOB? Check out Eurodressage's Grooms' Corner
Related Links
Dressage Riders Gal and Roffman Honoured at 2010 FEI Awards
Nominations Now Open for FEI Awards 2011