2011 CDIO-PJYR Hagen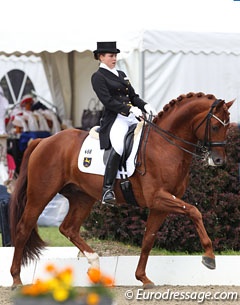 It has been a very busy competition period for the German junior riders. After the 2011 Preis der Besten at the end of May, the top ranked German juniors had to compete at the European Championship selection trial in Wiesbaden on 10 - 12 June. Merely five days later the same riders gathered at the 2011 CDIO-JR Hagen for another show.
Thirty-one European juniors ralleyed in Hagen with a large contingent from Eastern Europe (Hungary, Russia) present. German Lena Schütte topped the leader board in the team championship test aboard the 7-year old Hanoverian stallion Eloy (by Earl x Wendenburg). The dynamic duo scored 69.910% to refer Berlin based Pia Katharina Voigtlander on the 10-year old Oldenburg gelding Laetitian R (by Lord Sinclair x Cartier) to a second place. The large framed bay gelding has very powerful and well suspended gaits but is slow from behind and the rider need to push the trot to a medium trot in order to get expression. Though wonderfully light in the contact with the bit, Laetitian hardly shows any collection in the trot work. The pair scored 69.414%.
South German dressage rider Vivien Niemann has an excellent junior rider's horse in the 9-year old Hanoverian gelding Cipollini (by Compliment). The bay has fantastic freedom in the shoulder and is a very elegant mover. He also has large flying changes and scored 69.144% in the team test to finish third. Danish Anna Zibrandtsen, who was also the guinea pig rider with her second horse, finished fourth on the 9-year old Hanoverian mare Capriciella (by Cordoba x Wenzel). The lightfooted chestnut received a score of 67.162% from the panel of judges, which consisted of  Hans-Peter Schmitz, Ernst Bachinger, and Waclaw Pruchniewicz.
Photos © Astrid Appels - No Reproduction allowed!
Related Links
Scores 2011 CDIO-PJYR Hagen
Photo Report: Pony Pleasure at the 2011 CDIO-PJYR Hagen