2011 Belgian Young Horse Championships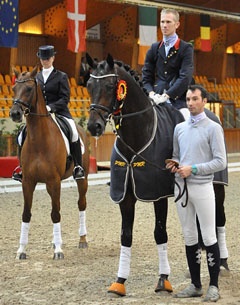 Hyrano, Bon Bravour and Don Massimo won the national titles at the 2011 Belgian Young Horse Championships held at equestrian centre Zilveren Spoor in Moorsele, Belgium, on 9 - 11 September 2011. The youngsters competing at this championship had to qualify for the nationals via a string of selection trials held in the spring and summer of 2011.
Larissa Pauluis and Hyrano (by Furst Junior x Weltgeist) were unbeatable in the 4-year old division, winning both rounds with a total of 150.116 points. This winning Belgian warmblood was previously competed by Nick van Laer. Isabel Cool and the Dutch warmblood Constand (by Vic x Jetset D) finished in silver medal position after ranking second twice in the two championship rounds. Stefan Hollanders and the German bred stallion Sir Classic (by Sir Donnerhall I x Classiker) were good for bronze with a total of 144.363 points.
In the 5-year old division Tom Franckx and his IPS Horse Group owned KWPN stallion Bon Bravour (by Painted Black x Chronos) remained undefeated in the three rounds for the 5-year olds and established a 7% point advantage (245.018 pts) to silver medal winning Dominique Mohimont on the KWPN bred Boticelli (by Vivaldi x Koss). Tom Heylen and Gucci H (by Gribaldi x Wundermeyer) were good for bronze with their total of 211.782 points.
"I'm so proud of my horses," said Tom Franckx-Goen."Bravie became 5-year old champion but I also had two 4-year olds in the Finals. Silver finished fifth and my husband Erik was 10th with Celene."
Larissa Pauluis continued her string of success aboard the Oldenburg licensed stallion Don Massimo (by Don Larino x Santander H) winning the 6-year old age category with 221.592 points. The dark bay stallion is owned by the Dutch IPS Horse group. Wim Nyssen and the German bred mare Ronda (by Rotspon x Akut) ended up with silver on 209.839 points, while Nick van Laer and Lacoste (by Lord Sinclair x Weltmeyer) was breathing down Nyssen's neck but ended up with bronze with 209.033 points.
Results
4-year olds - Round 1 - Preliminary Test
1. Pauluis Larissa  - Hyrano- 75,558
2. Cool Isabel - Constand - 74,979
3. Hollanders Stefan  - Sir Classic - 72,568 
4. D Hoore Brecht - Cloud    69,711 - 72,179  
5. Timmerman Mercedes  - Rosegarden - 71,921  
6. Franckx-goen Tom  - Silver - 71,632
7. Goen-franckx Erik - Celene  - 70,484
8. Van Laer Nick - Sir Donovan - 70,305
9. Van Den Bogaert Natasja - Athena Nike - 68,800 
10. Dewaegenaere Ona - Calucci Utopia  - 68,558
11. Van Laer Nick - Loverchamp - 68,511
12. Missiaen Simon  - Kirmen de Mars - 67,953 
13. Samyn Anemone - Zingaro des Quatre Chemins - 67,679
14. Mohimont Dominique - Chopin - 67,574
15. D Hoore Brecht  - Sambuca Van De Helle - 67,547
16. Hens Dorien - Ronaldo - 67,521
17. Hostyn Angelique - First Love - 67,137 
18. Dossin Julie    Cartier - 66,647
19. Van Bambost Steve    Concerto - 65,953
20. Meulemans Ann - Elenor - 62,695
21. De Kort Marjolein  - Hot Pit vh Bloemenhof  - 61,537
22. Blanckaert Lynn -  Brentina - 60,542
4-year olds - Round 2 - Finals Test
1. Pauluis Larissa -  Hyrano - 74,558
2. Cool Isabel - Constand  - 72,853 
3. Van Laer Nick- Sir Donovan - 72,079   
4. Hollanders Stefan - Sir Classic -  71,795  
5. D Hoore Brecht- Cloud - 71,737 
6. Franckx-goen Tom - Silver - 71,116
7. Van Den Bogaert Natasja - Athena Nike - 69,837
8. Timmerman Mercedes - Rosegarden - 68,858
9. Dewaegenaere Ona - Calucci Utopia  - 67,721
10. Goen-franckx Erik - Celene - 65,511
2011 Belgian Young Horse Championships - 4-year olds - Overall Standing
1. Pauluis Larissa - Hyrano
2. Cool Isabel-  Constand
3. Van Laer Nick - Sir Donovan
4. Hollanders Stefan -  Sir Classic
5. D Hoore Brecht - Cloud
6. Franckx-goen Tom - Silver
7. Van Den Bogaert Natasja -Athena Nike 
8. Timmerman Mercedes - Rosegarden
9. Dewaegenaere Ona  - Calucci Utopia
10. Goen-franckx Erik - Celene
5-year olds - Round 1 - Preliminary Test
1. Franckx-goen Tom - Bon Bravour - 81,505
2. Mohimont Dominique - Botticelli - 74,005 
3. Heylen Tom - Gucci 'H' - 70,955
4. Van Den Berge Deborah - Bitou - 70,635 
5. D Hoore Brecht - Beau Punto C  - 70,185 
6. De Brabandere Emma  - Quido Z - 68,170 
7. Hostyn Angelique - My Golden Princess - 66,550 
8. De Reus Benjamin - Leoville las Cases  - 64,735 
9. Carlens Olivier -  Armani du Jade Ewaldress - 64,600
10. Swagemakers Veronique -  Fernando Torres - 63,570
11. Swagemakers Veronique - Honeur - 58,340
5-year olds - Round 2 - Finals Test
1. Franckx-goen Tom - Bon Bravour - 80,845
2. Mohimont Dominique - Botticelli  - 73,355
3. Van Den Berge Deborah - Bitou - 69,609  
4. D Hoore Brecht - Beau Punto C - 67,482
5. De Brabandere Emma  - Quido Z  - 67,209
6. Heylen Tom - Gucci 'H' -  66,936 
7. Hostyn Angelique - My Golden Princess -  66,209
8. De Reus Benjamin - Leoville las Cases - 64,305
9. Carlens Olivier -  Armani du Jade Ewaldress  - 63,309   

5-year olds - Round 3 - Finals Test
1. Franckx-goen Tom - Bon Bravour - 82,668
2. Mohimont Dominique - Botticelli - 74,127
3. Heylen Tom - Gucci 'H' - 73,891  
4. Van Den Berge Deborah - Bitou - 69,041
5. Hostyn Angelique - My Golden Princess  - 68,077 
6. De Brabandere Emma - Quido Z - 67,882
7. De Reus Benjamin - Leoville las Cases - 66,209
8. D Hoore Brecht - Beau Punto C  -  61,455
2011 Belgian Young Horse Championships - 5-year olds - Overall Standing
1.  Franckx-goen Tom - Bon Bravour
2. Mohimont Dominique  -  Botticelli
3. Heylen Tom  - Gucci 'H'
4. Van Den Berge Deborah  -  Bitou
5. Hostyn Angelique  - My Golden Princess 
6. De Brabandere Emma - Quido Z 
7. De Reus Benjamin - Leoville las Cases
8. D Hoore Brecht - Beau Punto C
6-year olds - Round 1 - Preliminary Test
1. Pauluis Larissa - Don Massimo - 73,005
2. Van Laer Nick - Lacoste - 69,333
3. Engelen David -  Royal Rubinstein - 68,033
4. D Hoore Brecht - Atina -  68,000
5. Bosman Kara - Tia Primera - 67,967
6. Nyssen Wim - Ronda - 67,862 
7. Gielen-burger Verena - Maxifun - 67,776
8. Heylen Tom - Hierro - 66,886
9. Van Laer Nick - Don Matcho Vd Roshoeve - 66,638 
10. Roos Etienne - Fil Rouge - 66,243
11. Franckx-goen Tom - Andretti - 64,410
12. Schuurmans Cindy - Faith Full - 63,029
13. Claeys Manon - Axioom van Palice -  62,452
14. De Roeck Charlotte - Reine D'or - 58,843

6-year olds - Round 2 - Finals Test
1. Pauluis Larissa  - Don Massimo - 73,214 
2. Nyssen Wim - Ronda  - 69,959 
3. D Hoore Brecht - Atina  - 68,755   
4. Engelen David - Royal Rubinstein - 68,695  
5. Gielen-burger Verena - Maxifun - 68,659  
6. Van Laer Nick - Don Matcho Vd Roshoeve - 68,159 
7. Van Laer Nick -  Lacoste -  67,736 
8. Heylen Tom - Hierro  - 67,686 
9. Franckx-goen Tom - Andretti - 66,868   
10. Schuurmans Cindy - Faith Full - 66,459 
11. Bosman Kara - Tia Primera - 66,386 
12. Claeys Manon - Axioom van Palice - 62,632   
13. Roos Etienne -Fil Rouge -  61,391 
14. De Roeck Charlotte  - Reine D'or  - 59,118

6-year olds - Round 3 - Finals Test
1. Pauluis Larissa -  Don Massimo - 75,373  
2. Nyssen Wim -  Ronda - 72,018   
3. Van Laer Nick  -  Lacoste - 71,964   
4. D Hoore Brecht - Atina - 71,036  
5. Van Laer Nick -  Don Matcho Vd Roshoeve - 69,995 
6. Engelen David - Royal Rubinstein  - 69,936  
7. Gielen-burger Verena - Maxifun  - 68,532   
8. Bosman Kara - Tia Primera - 67,936  
9. Heylen Tom  - Hierro - 67,436  
10. Franckx-goen Tom - Andretti - 64,545
2011 Belgian Young Horse Championships - 6-year olds - Overall Standing
1. Pauluis Larissa - Don Massimo
2. Nyssen Wim - Ronda
3. Van Laer Nick - Lacoste
4. D Hoore Brecht - Atina 
5 . Van Laer Nick - Don Matcho Vd Roshoeve
6. Engelen David - Royal Rubinstein
7. Gielen-burger Verena  - Maxifun
8. Bosman Kara  - Tia Primera
9. Heylen Tom - ierro
10. Franckx-goen Tom - Andretti
Related Links
Belgian Horses Qualified for 2011 World Young Horse ChampionshipsBelgian Qualifiers for the 2011 World Young Horse Championships in Verden