2011 Swiss Young Horse Championships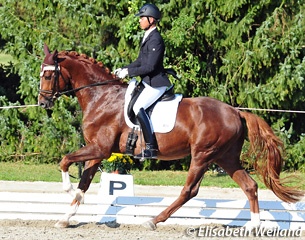 Furstentraum, Weltjunge and Dandy de la Roche grabbed the national titles at the 2011 Swiss Young Horse Championships at the national equestrian centre in Avenches, Switzerland, on 16 - 18 September 2011. The championship was struck by torrential downpour and on Sunday part of the show had to be cancelled as the dressage and show jumping arena had turned into a pond.
Gilles Ngovan and Otto Kocherhans' stallion Furstentraum (by Feinsinn x Davignon) were a league of their own in the 4-year old division winning the first round and championship round with scores of 8.65 and 8.53. They twice referred Markus Graf on Peter Schenk's gelding Online SPM (by Denario x Kennedy) to a second place. Melanie Hofmann and Hans Grunder's mare Donna Roma (by Don Frederico x De Niro) ended up third in the finals with 8.75.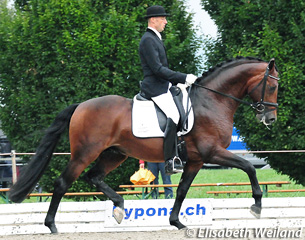 Markus Graf and his 2011 World Young Horse Championship mount Weltjunge (by Weltfeuer x Linaro) were untouchable in the 5-year old division. They scored 8.62 in the preliminary test and 8.34 in the Finals test to earn the national title. Two Konvally offspring finished in second and third place. Myrta Zbinden steered King du Perchet (dam sire Columbus) to a silver score of 7.97, while Melanie Hofmann got bronze on Kayal du Perchet (dam sire Akribori) with 7.70.
Only three horses competed in the 6-year old division and last year's 5-year old champion Dandy de la Roche (by Dressage Royal x Walt Disney) put in two very solid rounds scoring 69.56% and 69.78% under his owner and rider Antonella Joannou. Jasmin Isenschmid finished second twice aboard Werner and Monika Ru?ttimann-Baumli's mare Domenica (by Don Bedo x Tocuyo xx). Sabrina Schmid followed in third place with Walter and Ruth Salvisberg's mare Amici MI (by Aqua Mineral x Donnerhall).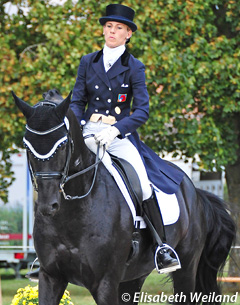 The 2011 Swiss Young Horse Championship also featured a finals for M- and S-level horses. Gilles Ngovan won the M-division aboard Otto Kocherhans' mare Fee VI (by Feinsinn x Davignon), a full sister to the 4-year old champion Furstentraum. The pair scored 68.92. Stefan Bischof and the gelding Darko of De Niro (by De Niro x Gagneur) were second with 67.84%. At S-level Melanie Hofmann and the stallion Del Cuore (by Dr Doolittle x Weltmeyer) stayed ahead of husband Gilles Ngovan on Dream of Night Fluswiss (by Dream of Glory x Rubinstein). The married couple scored 71.32% and 70.26% and were the only to break the 70% marker.
Photos © Elisabeth Weiland
More Photos in the Image Gallery Below
Results 2011 Swiss Young Horse Championships
4-year olds - Qualifier
1. Gilles Ngovan - Furstentraum - 8.65
2. Markus Graf - Online SPM -   8.23
3. Emanuel Wittwer - Dehluo van Staerenberg -   7.78
4. Melanie Hofmann - Donna Roma - 7.75
5. Stephanie Leuenberger - Sarischa B - 7.20
6. Andrea Aebi - Senso ZS - 7.08
6. Claudia Schwendener - Fantastica - 7.08
8. Stephanie Leuenberger - Riana S - 7.03
9. Janina Reznar - Sir Campino - 7.00
10. Marianna Siegrist - Adelina Grande - 6.98
10. Martina Flury - Fayahra - 6.98
10. Nadja Brunner - Solisco - 6.98
13. Isabel Justrich - Donsina Fluswiss - 6.95
13. Evamaria Schatzmann - Wywace - 6.95
15. Gilles Ngovan - Sarastro de la Roche - 6.93
16. Melanie Hofmann - San Marino - 6.85
17. Isabel Justrich - Dream of World Fluswiss - 6.83
18. Anina Muller - Sapioso - 6.78
19. Stephanie Leuenberger - Rooney della Crespera - 6.75
20. Sabrina Schmid - El Escada - 6.73
21. Doris Hardi - Renaissance WM - 6.70
22. Melody Jaggi - Nacre du Risoud - 6.68
23. Fabienne Kropf - Furst Louis - 6.65
23. Cornelia Brotschi - Montengro - 6.65
25. Eveline Zemp - Ragusa - 6.53
26. Jurg Rothlisberger - Rubyal vom Basi - 6.45
27. Martina Rothenfluh - Rovina - 6.40
27. Joao Paulo Dias Branco - Fantasia du Coinat - 6.40
29. Nicole Ramseier - Blue Wind Bedo du Bez - 6.30
30. Sandra Graber - Rihanna Special - 6.25
30. Cedric van Wegberg - Argovia - 6.18
32. Caroline Bucher - Donna Frederica - 6.10
33. Stephanie Leuenberger - Dali RR - 6.08
34. Urs Schelker - Heartbreaker von Worrenberg - 6.03
4-year olds - Finals
1. Gilles Ngovan - Furstentraum (Feinsinn x Davignon) - 8.53
2. Markus Graf - Online SPM (Denario x Kennedy) - 7.84
3. Melanie Hofmann - Donna Roma (Don Frederico x De Niro) - 7.75
4. Emanuel Wittwer - Dehlia von Staerenberg (Damon Hill x Welt Hit II) - 7.38
5. Andrea Aebi - Senso ZS (Stedinger x De Niro) - 7.21
6. Janine Reznar - Sir Campino (Sir Oldenburg x Carprilli) - 7.16
7. Claudia Swendener - Fantastica ZS (Furst Heinrich x Pavarotti van de Helle) - 7.01
8. Stephanie Leuenberger - Riana S (Rohdiamant x Dream of Glory) - 6.95
9. Nadja Brunner - Solisco S (Sancisco x Brentano II) - 6.94
10. Martina Flury - Fayahra MFW (Feinsinn x Gagneyr du Pichoux) - 6.89
11. Stephanie Leuenberger - Sarisha B (Sir Alfred x Don Primero) - 6.86
12. Marianne Siegrist - Adelina Grande KWG (Don Marco x Abanos) - 6.63
5-year olds - Preliminary Test
1. Markus Graf - Weltjunge - 8.62
2. Melanie Hofmann - Kayal du Perchet - 7.86
3. Myrta Zbinden - King du Perchet - 7.66
4. Stephanie Leuenberger - Ruwina - 7.06
4. Gilles Ngovan - Cameron - 7.06
6. Stephanie Leuenberger - Grace RR - 7.04
7. Cornelia Rychen - Scarlett du Chalet - 6.96
8. Esther Andres - Galetano - 6.88
9. Andrea Ludascher - Scarlett CB - 6.66
10. Stephanie Leuenberger - Fair Play de la Roche - 6.64
11. Hans Voser - Decaro von Whitemoon - 6.56
12. Cornelia Rychen - Orlando's Son - 6.48
13. Eva Nydegger - Calypso -  6.46
14. Karin Doll Wepfer - Falco - 6.32
15. Bianca Buhlmann - Serenella - 5.66
5-year olds - Finals Test
1. Markus Graf - Weltjunge (Weltfeuer x Linaro)  - 8.34
2. Myrta Zbinden - King du Perchet (Konvally x Columbus) - 7.97
3. Melanie Hofmann - Kayal du Perchet (Konvally x Akribori) - 7.70
4. Stephanie Leuenberger - Ruwina (Rubin Cortes x White Magic) - 7.17
5. Stephanie Leuenberger - Grace RR (Sandro Hit x Rubinstein I) - 7.16
6. Cornelia Rychen - Scarlett du Chalet (Sandro Hit x Landor S) - 7.01
7. Esther Andres - Galetano (Grafenstolz x Irac de l'Ile) - 6.96
8. Gilles Ngovan - Cameron H (Contendro x Calido) -   6.88
9. Stephanie Leuenberger - Fair Play de la Roche (French Kiss x Walt Disney) -  6.84
10. Andrea Ludascher  - Scarlett CB (Sir Donnerhall x Landor S) -  6.82
11. Hans Voser - Decaro von Whitemoon (Desperados x Dream of Glory) -  6.72
12. Cornelia Rychen - Orlando's Son (Orlando x Oldtimer xx) - 6.62
6-year olds - Preliminary Test
1. Antonella Jouannou - Dandy de la Roche - 69.56
2. Jasmin Isenschmid - Domenica III - 60.67
3. Sabrina Schmid - Amici MI - 60.33
6-year olds - Finals Test
1. Antonella Jouannou - Dandy de la Roche (Dressage Royal x Walt Disney) - 69.78
2. Jasmin Isenschmid - Domenica III (Don Bedo x Tocuyo xx) - 62.73
3. Sabrina Schmid - Amici MI (Aqua Minerale x Donnerhall) - 61.05
Related Links
Kayal du Perchet, Dandy de la Roche, Don Camillo II Win 2010 Swiss Young Horse Championships
Furstentraum Excels in Swiss Breed Classic at 2010 Swiss Stallion Licensing
Bugatti G, Darko of De Niro, Del Cuore Win 2009 Swiss Young Horse Championships
Scores: 2006 Swiss Young Dressage Horse Championships
Fiesta de Lully, Weltgraf II and Wicento Win 2004 Swiss Young Horse Championship
Dressage in the Third Generation: Antonella and Léana Joannou