Austrian Dressage News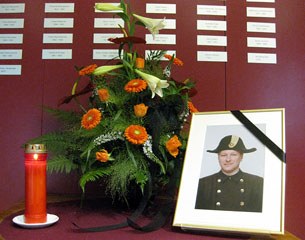 Tragedy struck the Spanish Riding school in Vienna on Monday 19 September 2011 when bereiter Harald Bauer sadly took his own life early in the morning. The rider succumbed to work pressure and depression.
The 44-year old rider committed suicide round 5 AM in the morning and his lifeless body was discovered by a cleaning lady. 
"With deep sadness we announce that our colleague, friend and longtime companion rider Harald Bauer has passed away," the SRS stated on their website. "In this difficult time, we extend our condolences to his family and relatives."
Rumours from inside the school spoke the Austrian news publication Heute.at that Bauer no longer could handle the work load and pressure at the SRS. "Before his death he tried to call one of his colleagues but couldn't reach him," an anonimous source told Heute.at.
"Harald was a sensitive human being. He could no longer cope with the pressure of his profession and the inhumane management of the riding school," Bauer's 41-year old girlfriend told Heute.at. The SRS replied to this statement by mentioning that "Bauer struggled with alcoholism and gambling, and he had debts."
in 2001 the Spanish Riding School became an independent company owned by the Austrian government under the supervision of the ministry of agriculture. This increased work pressure on staff members. At the moment the Austrian minister of culture, Claudia Schmied, is trying to negotiate taking over control of the School from Minister Berlakovich. The latter has made known that he can not clear the current 780,000 euro debt of the SRS.
The Spanish Riding School and Lippizaner State Stud in Piber are world heritage. Recent changes in the management of the SRS led to a doubling of the exhibitions and a reduced number of riders for the horses. Horses have turned ill more often or became lame. Because the breeding program has been restricted, there is a danger for in-breeding.
Source: Heute.at
Related Links
The Spanish Riding School Visits Germany: Show in Sankt Wendel
The Spanish Riding School of Vienna: UK Tour Dates in November 2011
Elisabeth Max-Theurer, Vice President of the Spanish Riding School
Arthur Kottas-Heldenberg to Leave Spanish Riding School
Cadre Noir, French Treasure of Horsemanship